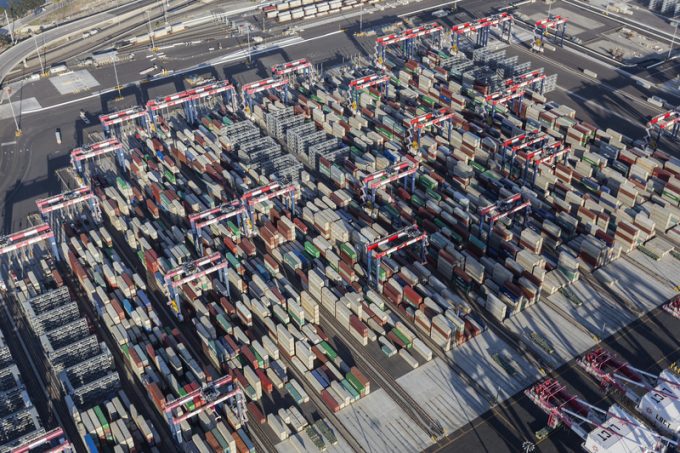 Over the past couple of months, the congestion at the main US west coast gateway complex has eased and vessel turn times improved, but importers and logistics companies are in for more grief in the coming months.
Executives of Seko Logistics predict a surge in traffic that will put renewed strain on the ports of Los Angeles and Long Beach, as well as the rail and truck networks beyond them.
For ten consecutive months, the port complex has handled record or near-record volumes of imports: in May, LA processed 1,012,048 teu, the first time a port in the western hemisphere handled more than a million teu in a month.
Total US-bound containerised shipments were up 47.1% on a year ago and 18.3% above the May 2019 tally, according to supply chain intelligence group Panjiva. Imports from China climbed 51.1% year on year, while imports from the rest of Asia increased 44.5%.
Despite this relentless flood of imports, turn times at the docks and truck gates at LA/LB have improved from their levels in January, but the respite will likely be shortlived.
The port of LA announced two weeks ago it had received notice from Chinese carriers BAL Container Line and China United Container Line that they intended to bring services to the port this summer. And HMM has signalled plans to boost its transpacific sailings.
Craig Grossgart, SVP global ocean of Seko, anticipates a continued wave of cargo heading to the west coast in the coming months. Back-to-school traffic will be heavy, as children and teenagers did not get new clothes last year due to the lockdown, he pointed out.
Likewise, fashion imports will be strong as adults shop for formal attire again to return to offices for work, he added.
Moreover, the US economy has been going at full throttle. The OECD predicts 6.9% GDP growth in the US for this year – the fastest pace since 1984.
The volumes pouring into the major gateways are elevated further because the container lines have consolidated their calls at US ports and unleash more boxes on the big ones, said Brian Baskin, MD Los Angeles of Seko.
An additional spurt of volumes is expected from the port of Yantian, which finally resumed full operations this week via cargo that has piled up at the port and in warehouses nearby.
The chiefs at the ports of LA and LB have emphasised that the congestion that had plagued them was not a reflection of their capacity. Gene Seroka, executive director at LA, pointed out that the volumes his port handled last year were not significantly higher than in 2019, a year that saw no serious congestion problems.
The current congestion is due to the strain on the entire surface network, extending far into the interior. Lately there have been reports of Asian carriers refusing bookings to some inland destinations, such as Indianapolis, Minneapolis and Toronto.
According to Mr Grossgart, the situation is very much in flux.
"It's kind of going to be a rolling blackout over the course of the next months, where certain ramps are going to be shut down from an IPI perspective, and certain ramps will place moratoriums on any more inbound containers," he said.
While it is hard to predict where and when these occur, Chicago and Dallas were always going to be problematic, he added. At Chicago, the number of grounded containers had kept growing. Customers cannot access them but are still charged storage fees, he noted.
The carriers, in turn, are stung by storage charges because they have to halt their trains at the major rail ramps near Los Angeles, as the terminals impose moratoriums on containers, he added.
"This congestion is coming at a cost to everyone," he said.
And, as more cargo pours in from Asia, the situation will deteriorate further, he predicted.
"It's going to get worse before it gets better."
US lawmakers are in the process of drafting legislation to force ocean carriers to accept US export bookings rather than rush empty boxes to China, where they can get better yields. If that happens, it will further exacerbate the congestion on the surface, Mr Grossgart predicted.
Mr Baskin is not expecting a rapid improvement either.
"I think we are in a critical situation for the next few months, and I think over the next year we'll continue to see that go back and forth as the pendulum kind of slows down," he reflected.