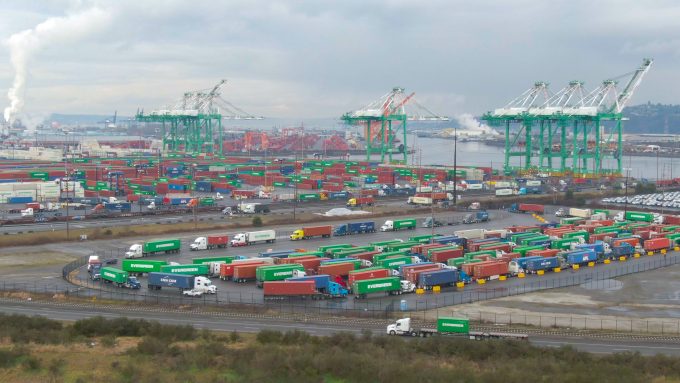 Truckers want the port authorities of Los Angeles and Long Beach to pave the way for a common platform for them to make appointments at any of the 12 container terminals at the gateway complex.
The California Trucking Association and Harbor Trucking Association stressed the benefits of a platform that would help the ports stem the loss of cargo shifting to other US gateways.
Weston LaBar, head of strategy at Cargomatic, a tech-based marketplace, noted that currently each terminal has its own system configuration, so essentially, truckers must navigate 12 different systems.
In a letter to the port authorities the associations point out that a common platform would reduce costs and boost productivity.
Having full visibility of all the terminals would give truckers a clear view of availability and bottlenecks and help them co-ordinate moves accordingly, which would result in less time spent and fewer missed appointments, said Mr LaBar.
He was CEO of the LA/LB Harbor Trucking Association seven years ago when it produced a study on the ramifications of a disjointed booking system. Beyond the 12 terminals, truckers had to consult further websites to check where empty containers could be returned and where chassis were available, etc. Altogether, a co-ordinated move required checking out more than 40 websites, Mr LaBar recalled.
That was the first attempt by truckers to push for a common appointment system, but lack of technology and reluctance from stakeholders turned the effort into a marathon.
Technology is no longer an issue, said Mr LaBar, adding that the Port Optimizer system at LA has unused functionality. However, there is still reluctance among stakeholders to embrace third-party technology after having already invested in their own systems, and some system providers have shown unwillingness to integrate with a third-party platform that competes with their own.
Moreover, the ports' systems – LA's Port Optimizer and LB's Supply Chain Information Highway – are set up as competitive tools for the individual ports, which also gets in the way of agreeing on a common platform, said Mr LaBar.
"LA and Long Beach need to get on the same page," he added. "From a user perspective, it's one big port.
He said a unified approach was needed to ensure the port complex remained competitive. Over the past year, the west coast has lost a considerable amount of cargo as beneficial cargo owners routed their traffic through ports on the east coast or Gulf of Mexico to avoid congestion. And by some estimates, 10% or more of that cargo may be lost for good.
Government could also play a role to bring about a common booking platform by incentivising its adoption, said Mr LaBar.
For their part, the port authorities have signalled that they regard a common appointment system as the way forward, but each may hope it would be sitting in its own IT infrastructure.
Compared with seven years ago, the industry is now in a much better position to arrive at a common booking platform, Mr LaBar said. Then, not every terminal had an appointment system, and standards varied.
"We're further along," he said. "The technology is there; and the will is there – from ports, cargo owners and truckers."