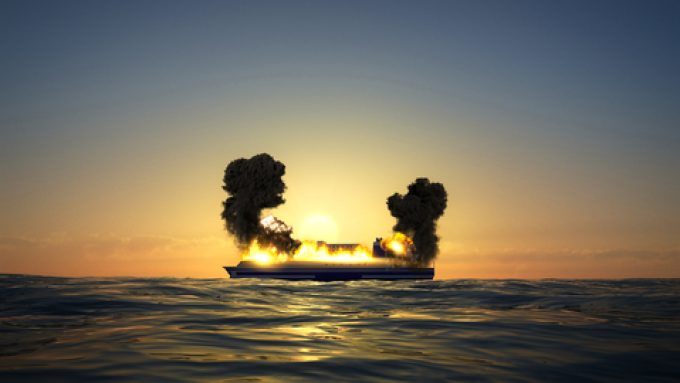 A lithium ion (li-ion) battery fire on a ship must be contained quickly to prevent it spreading, but experts have agreed that fire prevention is the best course of action – and that takes collaboration on a grand scale.
However, delegates at the Lithium-ion Batteries in the Logistics Supply Chain conference in London today were almost exclusively from the logistics industry, only one representative from the automobile manufacturing sector attended.
Marc Lefebvre, CMA CGM's head of cargo, told the conference there had been no discussions with car manufacturers. But, after The Loadstar pushed him on the point, he added: "We have asked questions about the properties of batteries and precautions that we can take, of companies like Tesla and Volkswagen [among others], and received no response."
Peregrine Storrs-Fox, risk management director at the TT Club, one of the organisers of the conference, was adamant that collaboration was necessary to meet the challenges of transporting li-ion batteries.
"All stakeholders in the supply chain are dependent on those that go before," he said, noting that regulations are just the lowest requirement necessary to keep safe.
According to TT Club, li-ion fires are not an everyday occurrence, but burn at very high temperatures, spread hazardous gases such as carbon monoxide and hydrogen cyanide and can spread very fast. Therefore, their manufacturers must help the shipping industry to understand the dangers and how to mitigate them.
Electric vehicle (EV) manufacturers will be the dominant user of li-ion batteries transported by ships, according to Colin Gillespie of insurer NorthStandard, with the number of EVs transported increasing tenfold by 2030.
That means the risk of fire will increase substantially. Eva Mckiernan, technical director and senior investigator at Jensen Hughes, explained thermal runaway and what to expect from a li-ion battery fire.
Thermal runaway occurs when the heat and chemical reactions reach a certain level. They are self-sustaining fires and very difficult to extinguish, she said.
Firefighter Dennis Kusters of salvage team REACT, told The Loadstar: "Firefighters want to douse a ship in water, but we collaborate with engineers and naval architects to make certain that the ship's stability is maintained. This is very difficult with ro-ro ships and ro-pax vessels in particular."
According to Mr Kusters, container fires are dealt with by cooling the containers and preventing the spread of a blaze. On a ro-ro or ro-pax vessel, the car deck must be shut down with automatic firefighting equipment to cool the vessel, but water on the car decks can make a ro-ro ship unstable and cause it to capsize.
"Getting passengers off the vessel is difficult and most ports do not want a vessel that is on fire to call," added Mr Kusters.
Fighting these types of fires needs specialist equipment, including gas-safe suits, and can take weeks to bring under control.
"We need to improve procedures and equipment and to support shipping companies with their preparation," said Mr Kusters.
Regulations are changing, but the process can be very slow, explained Mr Storrs-Fox, while the International Maritime Organisation's director of safety, Heike Deggim, added: "More work is needed to respond effectively to the dangers of li-ion batteries, but the development of batteries is also moving very fast."