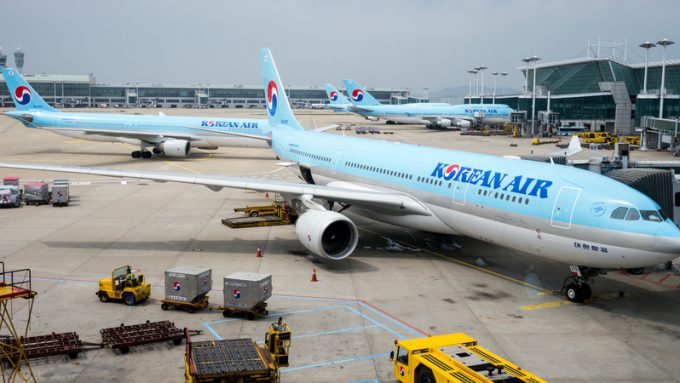 Asia's carriers face shifting paradigms: Korean Airlines' third-quarter profits fell almost 90%, while Cathay Pacific has lost its Hang Seng indexing after reporting its worst half-year results in two decades.
Profits for the Korean flag-carrier between June and September plummeted from $455m (KRW511bn) to $55.2m – and strong cargo revenues may have prevented an even more substantial decline.
Contrasting with declines in passenger markets, cargo revenues for the carrier were up across the board, with the Americas seeing a 23% surge to more than $222m.
Domestic cargo revenue aside (up 7%), all other markets reported double-digit increases, with Japan and South-east Asia joining the Americas with growth exceeding 20%.
Cargo accounted for 22.4% of the group's total, compared with 19.1% this time last year, significantly above the 8-10% industry average for cargo revenue contribution.
Cathay Pacific Cargo also saw strong growth in volumes and revenue, but this was not enough for a carrier that, as recently as 2014, was heralded the world's best airline.
Cargo volumes for Hong Kong's airline climbed 11.5% to 966,000 tonnes for the six months to June, resulting in revenues of $1.3bn (HK$10.5bn), an increase of 11.7% year-on-year.
But with a $320m group operating loss – which the carrier attributed to "a fierce market" – and a 50% share price decline, the carrier lost its status as a component of the Hang Seng Index.
All Nippon Airlines (ANA) suffered dwindling domestic volumes in the six months to September (down 2.8%), which it put down to declining volumes being handled at its Hokkaido hub.
That said, its international business was flying, with revenues up 31% to $480m (¥54bn) and volumes up by 9.4% to 500,000 tonnes.
While Cathay laments its lost status and ANA considers its domestic future, China Southern Airlines has gained ground, with year-to-date cargo revenue up 16% and volumes up 6.5% to 1.2m tonnes.
Similarly, Singapore Airlines Cargo fared well, with revenues for the six months to September jumping 6%, leading to $32m in operating profits and reversing last year's $45m operating loss.
In a statement the carrier pointed to a 4.7% bounce in volumes and improved cargo yields on the back of strong trade conditions.
"Singapore Airlines Cargo will continue to pursue charter opportunities and deploy capacity to match demand," said a spokesperson. "Currently, our freighter network [comprising seven 747-400 freighters] covers 19 cities in 13 countries."
First-half figures from IATA indicated an overall 10.1% bounce in freight demand for the Asia-Pacific airlines, with seasonally adjusted international volumes now 4% above the level reached in 2010.
"Strong upward trends in air freight for Asia Pacific airlines is set against a volatile, but generally strong, backdrop of buoyant export orderbooks for the region's manufacturers," said IATA.
"Export conditions are the strongest in Chinese Taipei, while exporters in the major markets of China and Japan are also continuing to report growing orders."
World ACD backed up IATA's assessment of the market, stating that, alongside Europe (up 12.6%) Asia Pacific was the best-performing area in terms of volume growth (up 14.2%).
"Asia Pacific can add the distinction that it is also the only area with double-digit yield growth, year on year, for each month in the period January to September," it added.
"Where did most of the growing volumes go to? Four destinations account for 30% of the growth in 2017: China East, US midwest, Germany and Japan."
Recognising the strength of the wider market – and perhaps perceiving Cathay's vulnerability – DHL Express has announced a €335m expansion of its Central Asia Hub in partnership with Hong Kong Airport Authority.
Chief executive of DHL Express Ken Allen said given the rise in international e-commerce and intra-Asia trade, DHL was "committed to strengthening" its global network and services.
The expanded facility will be equipped with an enhanced material handling system, which a spokesperson said would increase throughput capacity from 75,000 shipments an hour to 125,000.