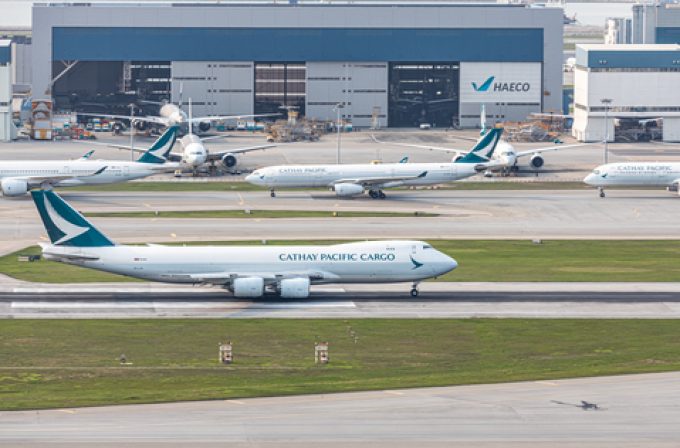 Hong Kong and its home carrier, Cathay Pacific, have had a torrid couple of years, politically, as well as coping with the zero-Covid strategy of strict quarantine and travel restrictions.
But the territory, and the airline, are fighting back and trying to rebuild their damaged brands. And while there were no flights, Cathay kept busy developing future business.
The airline has now recovered sufficiently, with the easing of quarantine restrictions, to have one-third of its pre-Covid passenger capacity back and two thirds of its cargo capacity, an acceleration that happened over the past week.
"Passengers now have a three-day monitoring period, which has improved the prospect of travel and will help bring in more capacity," Tom Owen, cargo director, told The Loadstar on the sidelines of IATA's WCS event in London last week.
"We've had a full freighter schedule for the past couple of months, helped by the relaxation of quarantine rules. Last year, we had to redeploy freighters from long-haul to regional routes, because of quarantine, but we are now back."
The carrier noted that Covid restrictions on the Chinese mainland had hit manufacturing over the summer, while the demand side was weaker because of consumer sentiment.
General manager cargo commercial George Edmunds told customers yesterday: "This has all resulted in the summer months underperforming compared with 2021. However, we are hopeful that the local restrictions on the Chinese mainland will start to lift, resulting in an increase in industrial output to meet traditional year-end demand, and, therefore, a shorter but solid peak period.
"Looking further ahead, to next year, we expect capacity to remain constrained out of Asia, possibly until Q2 or beyond, due to passenger movement restrictions in the Chinese mainland, but as production and demand normalise, we anticipate the market will be relatively well balanced. This will be at levels below those we've seen in the past 18 months, but it's worth stating that this will still be well above historical averages."
In the medium term, the outlook is a softer market, acknowledged Mr Owen.
"The 'peak' this year will be nothing like last year. There will be a peak in demand, but not as pronounced or prolonged. Rates are still holding at the moment, but I would, longer-term, expect a softer year ahead.
"There are specific tradelanes, intra-Asia and China-US, that are still strong and Hong Kong is in a strong position. It is still the biggest cargo hub in the world, which shows the resilience of its trade flows."
Cathay seems to be trying to talk-up Hong Kong, despite the fact that more than 133,000 residents, or 1.6%, have left in the past year, compared with the 89,200 that left between 2020 and 2021.
But Mr Owen explained that Hong Kong too was rebuilding its brand.
"From a business perspective, Hong Kong is as interesting and dynamic as ever. It's been a tough year for people and businesses. There has been a sense of frustration. But Hong Kong as a brand is itching to get on the world stage again. It's an exciting time to be in Hong Kong – it's very much on the up."
And the trade flows are there. Covid accelerated e-commerce and healthcare volumes in particular, which Cathay – which doubled its cold chain capacity with a new facility – expects to retain.
"We expect more pharma and cold chain traffic, in South-east Asia, India and China. One of our competitive strengths is expert cargo, things that are hard to handle."
One of Cathay's current challenges – in line with carriers and airports the world over – is to replace the labour it lost.
"It was very sad, we had to lose 90% of our capacity overnight. It was hard to restructure – painful, and difficult to lose long-serving, loyal people.
"Hong King is still not fully open, which is top of mind for our cargo-handling teams, especially when widebodies start flying again. We are recruiting heavily; we have 4,000 positions open now, including pilots, which will help us to expand again. But we need to make sure the cargo business is attractive. We need to show why cargo provides an interesting career. It's vital to bring in new talent and technology."
And the carrier wants to build back better.
"We are regrowing and recruiting some of the old crew and ground staff; we are rebuilding, but in a different way. Our culture is very strong, we have a can-do spirit. We are thoughtful about our customers and products and people. We have learnt that airlines can adapt fast.
"We have three values: our 'can-do' attitude; progressiveness; and thoughtfulness. That's how we differentiate ourselves."
But it has also been about new technology. Some 40% of customers now book online, via Cathay's partnership with EzyCargo.
"We've had very little passenger capacity flying in the past two years, which has given us time to improve aspects of our business, such as the booking engine," said Mr Owen.
But he also pointed to Cathay's new data hub as a new tool to build customer satisfaction.
"We are redefining our product ranges based on shipper and forwarder feedback. We are really focused on innovating and have an internal programme to reduce as much paper as possible.
"The past couple of years we have been building an integrated operational data hub. We can build dashboards around the operations and cross-reference data. It will allow us to make decisions in a much more scientific way. And that will really help us differentiate ourselves, with things like the optimisation of fleet, efficiency of claims, the value of a customer and prioritising profitable services. Before, the information was all over the place."
Fearing overcapacity in the market, it has no plans to buy more aircraft, but Mr Owen added: "We remain very positive about Hong Kong in the long-term, and will be looking to invest and grow."