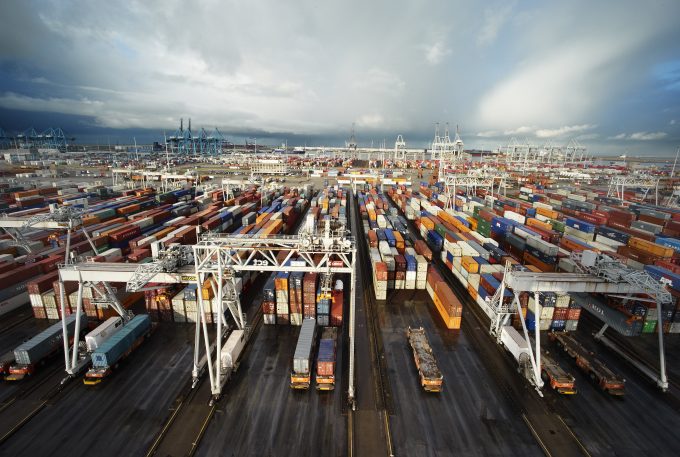 The two biggest North European hub ports, Rotterdam and Antwerp-Bruges, handled fewer containers in the first half of this year compared with H1 21.
However, extended dwell times meant yard density and terminal congestion increased significantly.
Ocean carriers initially dealt with chronic congestion by skipping calls and overlanding containers at smaller ports, but the transhipment relay operations have aggravated terminal congestion at the destination hubs.
There are suggestions for more use of night shifts and weekend work to overcome the supply chain disruptions, and there are calls for shipping lines to adhere more closely to their berthing windows to avoid the bunching of vessel calls and the severe pinch points on the terminals.
Rotterdam saw 6.2% less throughput across its box terminals in the first six months, at 7.3m teu, while neighbouring Antwerp-Bruges reported a 4.4% decrease, to 6.8m teu.
Rotterdam attributed the volume decline to loss of traffic to and from Russia, as well as "the ongoing disruption of container logistics".
It said container vessels were "no longer able to comply with their sailing schedules" and, to make up time, they were often omitting scheduled calls and discharging or loading more containers on the remaining loops.
The Dutch port handled 5.5% fewer calls in the first half of this year, compared with the previous year, but those vessels saw an average 6.1% increase in their container exchanges.
"This results in peaks of activity at the terminals, which are already very busy, since containers are left for longer periods because ship arrival times are more unreliable," said the port.
Indeed, according to the port authority's data, the average dwell time for containers at its deepsea terminals has jumped from four days pre-pandemic to ten.
Meanwhile, at the newly merged port of Antwerp-Bruges the authority said its container terminals were "under constant pressure". It added: "With globally disrupted container liner shipping, vessel delays and high volumes of import cargo, the container trade continues to face operational challenges."
Jacques Vandermeiren, CEO of the port of Antwerp-Bruges, said the container segment of its business portfolio "continues to pose significant challenges".
Back at Rotterdam, the president of the Rotterdam Terminal Operators' Association, Rob Bagchus, said "our terminals are too full".
"All those containers staying longer in the terminals take up capacity. This not only applies to the deepsea terminals but also to the inland terminals and the other storage and transport capacity," he said.
And Rogier Spoel, senior policy manager, air and sea freight, at Dutch logistics business association evofenedex, wants to tighten up on carriers' commitment to berthing windows, which is largely being ignored by the alliances due to their immense dominance of the Asia-North Europe tradelane.
He argues that the "fixed windows" for barges and truck appointment systems should be reinforced at deepsea terminals.
"Shipping companies are not, or rarely, reprimanded by the ports if they arrive late," said Mr Spoel, "people are afraid that the shipping companies will choose a different port in future."
He suggested the only way to overcome this fear of losing business to a competing port was "to act together and take a uniformed approach" to support the berthing window systems.