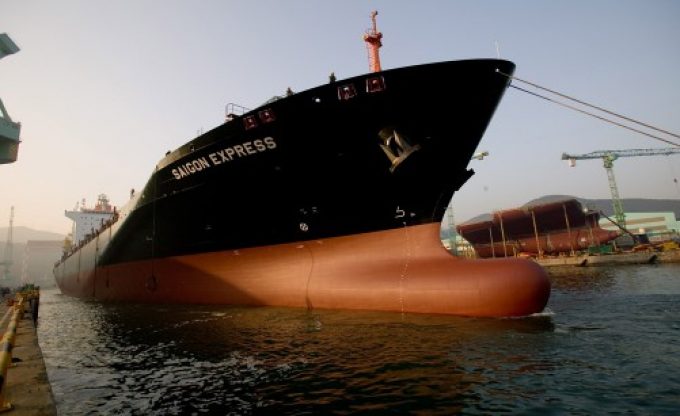 Non-operating containership owners Seaspan and Danaos have reported "positive supply side-effects" from the IMO's 0.5% sulphur cap on vessels, coming into force next January.
Indeed, a zero orderbook for container tonnage under 10,000 teu, combined with more ships being taken out of service for scrubber installation, has resulted in a significant tightening of supply in the boxship charter market.
The world's largest independent owner, Seaspan, said it expected scrubber programmes to run through into 2021, and it predicted a further squeeze coming from vessel speed reductions as carriers ramp up their slow-steaming strategies post-IMO 2020, to compensate for the higher cost of compliant fuel.
During Seaspan's Q2 earnings call yesterday, chief commercial and technical officer Peter Curtis said since June there had not been one off-hire day recorded on the 112 vessel container fleet.
"The market today has increased quite considerably," said Mr Curtis, noting that the current orderbook-to-fleet ratio, at 11.2%, was "the lowest in 20 years".
He said there were around 30 units equivalent to over 150,000 teu of capacity out of service for scrubber installation, a complex operation that can take up to two months in dry dock, which was adding to the squeeze on supply.
Notwithstanding that ocean carriers are endeavouring to mitigate the impact of IMO 2020 by installing scrubbers to allow vessels to continue to burn heavy fuel oil (HFO) with a sulphur content of 3.5% after 1 January, the majority of ships in service will need to fill their tanks with the more expensive maximum 0.5% compliant fuels well before the enforcement date.
"What we think will likely happen is further speed reduction, which will result in a further tightening of the supply-demand equation," said Mr Curtis.
"Our larger vessels are operating at just below 19 knots on average and the smaller vessels are operating just above 19 knots," he advised, adding that indications from clients of a 0.5 knot speed reduction "would have a meaningful effect on fuel reduction and therefore a carbon footprint reduction".
Meanwhile, container lines are scrambling to insulate themselves from a potential tonnage crunch by fixing ships for as long as possible. Seaspan said it had recently concluded multi-year charters for panamax vessels with CMA CGM, Maersk and ONE, some on fixed daily hire rates and others with a charter party subject to floating rates.
And Greek shipowner Danaos, which operates a fleet of 55 containerships chartered out to ocean carriers, said the escalation in trade tension was dampening the appetite for newbuild orders.
CEO Dr John Coustas told analysts and investors the "uncertainty on the outcome and impact of trade flows" had discouraged carriers. He said the dearth of newbuild tonnage, along with the impact of IMO 2020, was "expected to result in positive vessel supply side-effects, which should support a strengthening of the charter market".