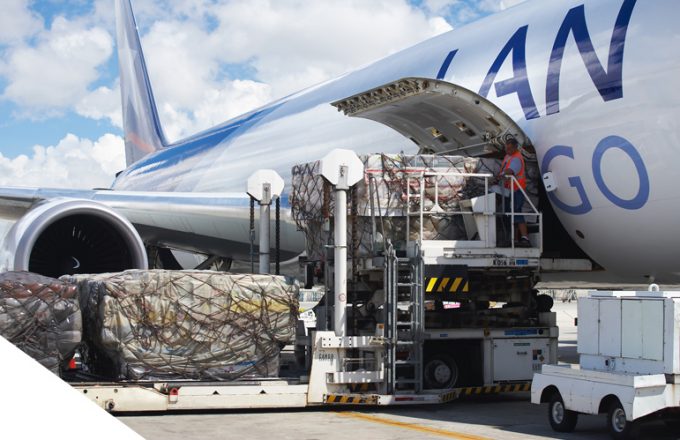 Andres Bianchi, CEO of LATAM Cargo, is facing a conundrum: his customers are increasingly looking beyond the reach of the carrier's network.
Latin America's exporters, from salmon farms in Chile to produce growers across the region, are moving a rapidly growing portion of their cargo to Asia, notably China.
According to one estimate, more than 86% of Chile's cherry exports went to Asia last year, with China, now Latin America's third-largest export market, taking 82%.
However, LATAM's freighters do not cross the Pacific and its passenger flights don't serve the Far East.
Mr Bianchi said: "We need connectivity to a growing Asian market as part of our value proposition. This means a growing emphasis on building new, and cultivating existing, interline partnerships.
LATAM Cargo's predicament may be rare, but some other carriers are also looking to increase their reach. Tim Strauss, vice-president of cargo at Air Canada, is exploring "a couple of collaboration options".
He said the partnership of Northwest Airlines and KLM, when he worked for the US airline, was very valuable for both parties.
With a relatively small domestic market, Air Canada is increasingly leveraging its network. When it was running a joint-venture freighter operation with Cargojet, which saw B767 freighters fly to Mexico City, Bogota and Lima, it fed traffic into this from Europe and Asia as well as North America, and vice versa.
"We can fill our flights from China easily, but how about Casablanca? That's the hard part," Mr Strauss said.
In the main, network selling is directed at large forwarders with a global footprint.
"Global forwarders have that reach," confirmed Mr Strauss.
The Air Canada-Cargojet venture ended last year (resistance from Air Canada's pilots, according to external sources), but Cargojet decided to continue flights to Bogota and Lima. Interline traffic plays a considerable role in the cargo airline's solo venture.
"We get significant interline feed in both directions supporting Bogota/Lima," confirmed its executive vice-president, Jamie Porteous.
Other North American carriers are strengthening ties. In July, Delta Air Lines continued its push for closer alignment with its SkyTeam alliance partners when it announced a cargo joint-venture with Korean Air, sharing space on their transpacific routes. The alignment gives their customers access to over 80 points in Asia and more than 290 in the Americas.
United Airlines is busy implementing its joint-ventures with Lufthansa and All Nippon Airlines. With the latter, the collaboration was extended to westbound flights in February. The first phase of the Lufthansa venture kicked off in May, with the second stage expected to get under way towards the end of 2018 or next year.
These joint-ventures create vast networks, but Jan Krems, president of United Cargo, is looking to supplemental interline arrangements.
"I'd like to have access to freighter capacity," he said.
Stan Wraight, president and CEO of Strategic Aviation Solutions International, reckons it makes sense for LATAM to collaborate with Qatar Airways, in the wake of the Middle Eastern carrier's move to take a stake in Latin America's largest airline.
In some cases, ties develop when a carrier executive moves to another airline and establishes links with former colleagues, he added.
Overall, he has not observed a trend towards increased airline partnerships other than within airline groups.
"It's nothing strategic. It's opportunistic," he said.