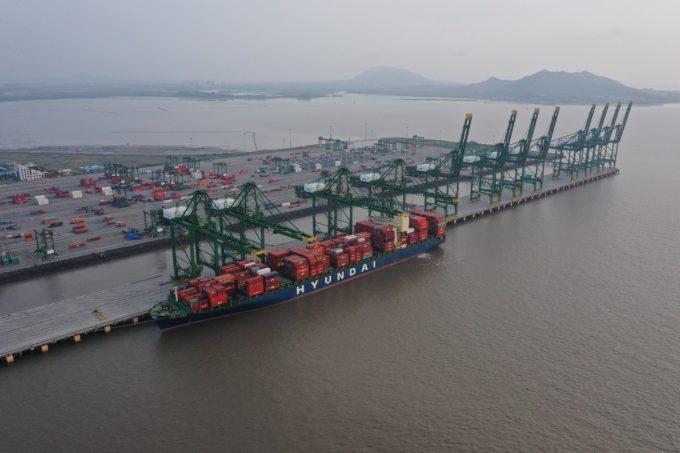 With export volumes slipping amid global demand growth woes, container lines serving Indian trades are putting new rate hike plans for the traditional peak season  on the back-burner.
MSC has pulled back from issuing its general rate increase (GRI) and peak season surcharge (PSS) notices this month on the India-US trades, while other liners have, tactically, kept themselves out of the pricing race, thus far.
Geneva-based MSC had announced a $2,000 per container PSS for Indian loads to the US and San Juan (Puerto Rico), but later halved that to $1,000, before axing it. The cancelled GRI was $1,500 per box for all cargo on the same tradelane.
After carriers managed to hold rates at elevated levels over the past two months, new industry data suggests they have now begun to implement measurable contract/spot price reductions for Indian bookings to US base ports, in order to optimise vessel space allocations for the region.
According to market sources, rates for the USWC offered by major liners, such as MSC, Hapag-Lloyd, CMA CGM and ONE, to regular customers (shippers/forwarders) are now down by nearly 20% on July levels. Similar rate relief, albeit lighter, has also been reported for India-USEC cargo.
For example, the cost of shipping a 20ft container from Nhava Sheva/JNPT or Mundra to Los Angeles is now pegged at $8,400, versus $10,300 last month, while for a 40ft box, rates are hovering at around $10,600, down from $12,900 a month ago.
"Securing vessel space – a nightmare over the past two years – has become a lot easier," a Mumbai-based freight forwarder told The Loadstar: "But rates are still significantly higher than pre-pandemic levels and the disruption effects continue."
From a carrier perspective, Sunil Vaswani, executive director of the Container Shipping Lines Association (CSLA), said member lines had been "exceptionally proactive in facilitating trade growth" by investing heavily in empty repositioning and service expansion.
"These efforts, which are ongoing, have contributed towards the softening of the rates," Mr Vaswani added.
According to Sylvester D'mello, director (operations) at freight broker Freightwalla, the current market scenario is a total turnaround from that at the beginning of the year.
"The opening of the economy and availability of containers is pushing freight rates towards the lower end of the graph," Mr D'mello told The Loadstar. "During the lockdowns, a large volume of containers was held up in different parts of India, leading to the panic ordering of new boxes in huge quantities."
The pace of Indian exports has tapered-off, after a stellar performance in fiscal year 2021-22, which ended in March, and through the April-June quarter. After recording 24% growth in Q1, exports edged up 2% last month, according to official data.
"Signs of a likely slowdown in exports can be seen, as global inventories are pretty high," said A Sakthivel, president of the Federation of Indian Export Organisations. According to FIEO, Indian exporters are facing a triple-whammy: a shift in consumption patterns from goods to services; rising inflationary pressures cutting into the purchasing power of global importers; and recessionary conditions taking hold in more advanced economies.
"The reduction in voyage time following Covid disruptions has also added to the inventory hike, as goods which used to reach the US west coast in 50 days, now take 60," the shipper group added.