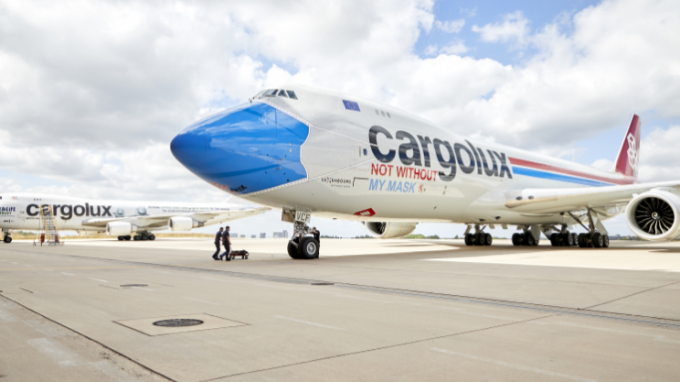 Air cargo yields on the transatlantic may begin to soften this summer, according to Richard Forson, chief executive of Cargolux.
But so far this year, yields have remained strong and are set to give the freighter operator a strong set of six-month results.
"I think we will have a pretty solid first half. The question is to what extent long-haul fights will be re-instated, especially in the summer months. Short-haul is starting to get busy, as is US domestic," he said.
"The US to EU and vice versa will probably be the first market to reopen, owing to the number of people that have had vaccinations. The US vaccine programme is rolling out well now and some Europeans are going to the US to get their vaccine – there is vaccine tourism."
The transpacific, however, looks set to remain under-served by belly capacity in the near future, he added.
"Many Asian countries are restricted and under additional measures, so that traffic may take longer to come back."
Yields are already lower than this time last year, he added. "But they are still at high levels.
"A comparison with last year would not be comparing apples with apples. April, May and June last year saw huge demand for PPE out of China, and people would pay anything. Last year was extraordinary."
Despite a partial comeback of passengers, Mr Forson explained that two other factors could influence rates in the next months.
"Capacity is still below demand, and what also may be a factor is the problem of congestion at ports, which is adding to delays. So there could be a move towards air cargo for critical goods.
"But whatever capacity you have just gets taken up."
Cargolux continues to offer blocked space agreements (BSAs), despite the high demand and potential of elevated spot rates.
"We still offer BSAs, so all our major customers get a major allocation. But we can't give all our capacity out."
Cargolux hasn't been fully tempted by the attractive charter business, but Mr Forson said he was seeing new trends in the market.
"We have entered into some year-round charters – but we are not a charter airline. Yes, customers are tending to want longer charter arrangements with airlines, but it must make economic sense. Forwarders are looking for one- or two-year wet-lease deals – it's a hedge against future increases, so their business model is changing."
Also changing are the commodities carried, although that is starting to balance out now to more general cargo, explained Mr Forson.
"Initially there was a high volume of electronic goods, as people working from home needed laptops and headsets. That was all being flown in addition to PPE. But now there is a lack of semi-conductors and chips."
And what of vaccines and IATA's forecast that the world would need at least 8,000 freighter flights for their shipment? In common with carriers such as Lufthansa Cargo, Cargolux is underwhelmed by such predictions.
"We looked at the shipment of vaccines – and thought it was over-hyped at the end of the day. Passenger aircraft are more suited to this than a dedicated freighter. And exactly how much tonnage would it be?
"We could fly them, but we asked a data provider who said it would be 120,000 tons over two years – so a very small amount. Not that you'd get freighter-loads of vaccines transported anyway."
Cargolux did sign up to the Unicef vaccine transport initiative, but Mr Forson – who may perhaps be unique among chief executives in his very protective attitude to his staff – said he had concerns over operating to some countries, particularly in parts of South America and Africa.
"I couldn't guarantee the safety of the crew," he said.
Cargolux continues to serve Brazil and South Africa, but they are not currently in the scheduled network.
Next week: What will Cargolux spend its $769m profit on; what's the future for Champ; and how a carrier beat governments in the PPE wars