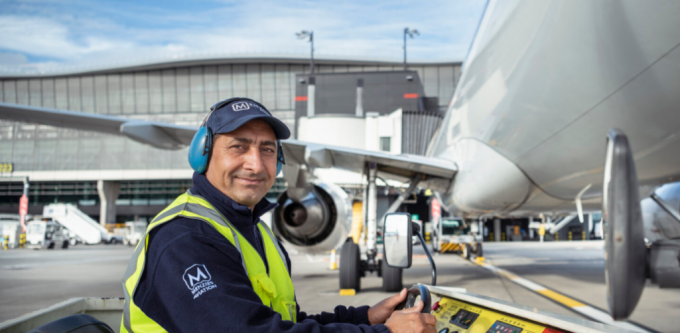 John Menzies focused on the positives in its half-year results announcement, noting £27m ($34.7m) of new business and anticipating "modest revenue growth" in 2021.
However, the handling and aviation services company recorded an operating loss of £39m, following a profit of £17.9m a year earlier, on the back of revenues of £431.5m, compared with £649.9m. The half-year loss before tax was £80.1m, against a loss of £4.4m last year.
Cargo, on which it increased its focus in 2019, was something of a saviour. Although the company does not separate its ground and cargo handling in its accounts, its cargo forwarding business, which brought in £72.1m in the first half, accounted for nearly 17% of total revenue, against 11% a year ago.
Menzies, which along with rivals called on the UK government to help forwarders with cash flow, said the results would have been worse if it had not "acted decisively in facing the challenges".
It said it had employed "a disciplined spending approach"; matched operations to volumes – which saw it cut jobs; and focused on cash management and tight credit control.
A revised banking covenant structure, as well as government support schemes, had helped limit the underlying loss, it said, and had left it with £175m in cash at the end of August, which it will invest in the business.
The 43% decrease in passenger flight volumes saw Menzies' revenues fall 33%, but cargo handling and forwarding services enjoyed strong yields – and it won a healthy amount of new business.
"We have made significant strides expanding our cargo handling portfolio in the first half," said the company.
"Given the current market outlook, we will look at opportunities to rebalance our portfolio with further expansion in the cargo market and a greater focus on into-plane fuelling where we believe there are opportunities to increase our market share.
"Commercially we continue to have success. Since the period end, we have won further cargo business with Qatar Airways in Los Angeles, our fifth contract award with Qatar this year, and won the ground handling and cabin cleaning business of Air France/KLM in Toronto."
Philipp Joeinig, executive chairman, said: "The first six months of the year have seen us operate in unprecedented times due to the Covid-19 pandemic. The impact on our global operations has been material, but I am very pleased with how we have reacted. As a result, our liquidity position is good, and we are well placed to navigate through the winter season and beyond.
"Due to the actions taken in 2019 to re-shape the business commercially, we are making real progress, winning new contracts, particularly in cargo, and I expect this to continue in the second half.
"Like others in aviation, we know we are not out of the woods yet."
The company predicted revenues in the second half would be similar to the first half.
And, looking further ahead, it added: "We continue to review the marketplace and work with our customers to gauge flying volumes. We are expecting a reduced winter season with flight schedules substantially lower than the previous year, and have planned accordingly. But we expect a sustainable recovery in activity levels thereafter, contributing to modest revenue growth in 2021 over 2020."