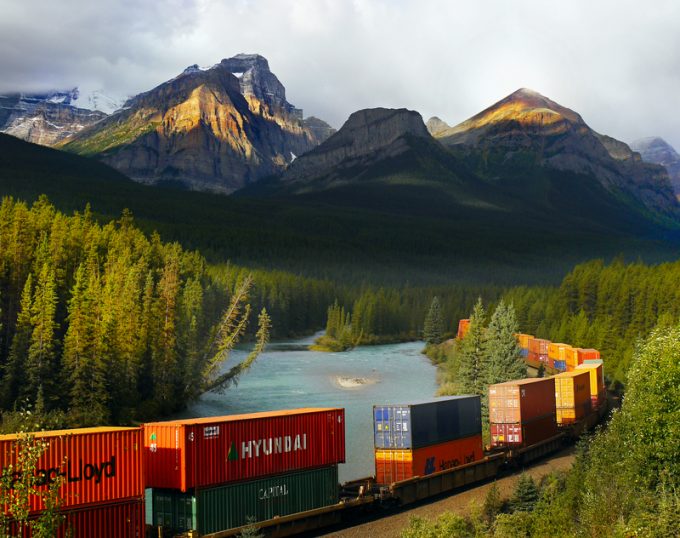 The balance sheets of Canada's two class-one rail companies took a hit from Covid-19, but their top brass are upbeat on prospects for the second half of 2020, pointing to signs of strength in several key sectors.
Canadian National (CN) reported a 19% drop in revenue to C$3.2bn (US$2.35bn) for the second quarter, with volumes down across most commodity groups, and despite cost-cutting, operating income slumped 53%, to C$785m.
Rival Canadian Pacific (CP) was less hard hit, with revenue down 9%, to C$1.79bn, and net 12% lower, at C$635m.
However, in an earnings call, CP chief marketing officer John Brooks said a number of verticals were expected to show growth in the coming months, namely grain, steel, aggregates and potash (which moved in record volume in the quarter).
And intermodal volumes appeared strong and encouraging, an impression reinforced by shipping line decisions to reinstate some blanked sailings, he added.
At the CN earnings call, management were singing from the same song sheet and stressed the prospect of strong grain traffic, noting the decision to purchase 1,500 high-capacity hopper cars to allow the company to move 20% more wheat and 40% more canola.
Above all, management was looking to the intermodal sector to lift CN's business in the second half of the year, it said.
The decision of container lines to reinstate some sailings is in line with reports from CN's partners in Asia about demand trends. Keith Reardon, senior vice-president for the consumer product supply chain, described pent-up demand among consumers for stay-at-home consumption and to engage in do-it-yourself projects that should lift intermodal volume.
CN president & CEO JJ Ruest emphasised that the intermodal play was for the whole North American market, not just Canada.
"We are very bullish on the strength of the consumer in North America, even more so the consumer living in the US in a big city," he said.
CN is using the lower traffic volume brought about by the pandemic to tackle extensive network maintenance and expansion work. Recently it announced plans to spend nearly C$1bn on capital projects to expand network capacity.
More than C$440m of that will go to projects in British Columbia, to boost operations at the key container gateways of Vancouver and Prince Rupert, as well as access to these ports. CN is also spending on the construction of a 3.5 mile stretch of double-track on the Vancouver-Edmonton corridor and on new sidings on the Edmonton-Prince Rupert route.
CN is also looking to boost intermodal income directly through Winnipeg-based TransX, a provider of intermodal, forwarding, trucking and warehousing services it acquired in March last year. According to CFO Ghislain Houle, ROI on TransX is higher than CN's typical threshold of 12%.
Improvements in productivity are an ongoing effort to boost results. Train lengths reached "all-time historic levels" in the second quarter for CN, while train speed went up 5% year-over-year and crew starts were reduced by 21%. The company idled four switching yards and four locomotive shops during the quarter, and stored roughly one-third of its locomotives and over 20,000 rail cars.
At CP, train speed was unchanged from a year earlier, while average train length went up 8% in the quarter, with average train weight up 7%. Operating expenses came down to C$1bn from C$1.16bn a year earlier.
CP management is targeting an operating ratio in the mid-50s range. It has not identified any timeline for this, but indicated during the earnings call that this could be achieved in the coming year. In the second quarter, its operating ratio stood at 57%.
For now, the Canadian outlook for recovery from Covid-19 is cautiously optimistic, but the surges in infection south of the border are a cause for concern for both rail operators, particularly with their focus on US consumers through intermodal traffic.