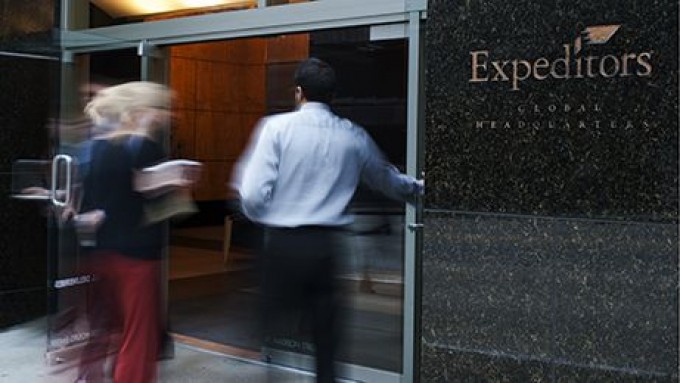 US freight forwarder Expeditors International yesterday announced increased profits, despite falling volumes and declining freight rates.
The Seattle-headquartered operator was reporting preliminary fourth-quarter and full-year 2015 results.
Fourth quarter-air and sea freight volumes decreased by 1% and 2% respectively on Q4 14, while revenue declined 10% year-on-year, to $1.6bn.
However, Q4 net revenue – what it earns less payments to air cargo carriers and shipping lines – was up 3% to $536m, reflecting the company's ability to increase margins even in a weak market by taking advantage of the considerable transport overcapacity and securing lower rates from carriers.
Chief financial officer Bradley Powell said: "We generated these strong results even though both air and ocean volume growth softened in the latter part of the year, and average sell rates came under pressure.
"Despite those dynamics, our people proved adept at taking advantage of opportunistic buy rates to increase operating profit and produce a fourth-quarter operating income to net revenue margin in excess of 33%.
"In the fourth quarter, we continued to benefit from available ocean and air carrier capacity and favourable spot market buying opportunities, even as our revenues declined on lower average sell rates and volumes, as a result of slower market conditions."
Expeditors' full-year results demonstrated the considerable volatility forwarders, particularly those serving the US import market, encountered, and while there were no volumes figures for the year, carrier pricing was shown to be far stronger in the first half, which was dominated by the congestion at US west coast ports.
Gross revenues for the year came in at $6.6bn, growth of 1%, while annual net revenues were $2.2bn, up 10% year on year. Overall, it posted an operating profit of $721m, a 21% increase on the $595m it achieved in 2014, while its global headcount increased to 15,397 from 14,659 the previous year.
Chief executive Jeffery Musser said: "Throughout 2015, we further implemented our strategic plan to align more closely with opportunities and focus on growing our businesses.
"While we believe we benefited in the first half of the year from some unquantifiable increase in airfreight because of the west coast labour dispute, we were adversely impacted by a softening in rates and volumes in the second half."
Mr Powell, however, remained uncommitted on Expeditors' prospects for this year.
"It's no surprise that global uncertainty has made an increasingly interconnected marketplace more unpredictable, and we expect rate volatility to continue for some time.
"Looking forward, we are aware of the uncertainties and challenges with the global economy and global trade, and how they may impact the comparisons with our 2015 financial results," he said.