As the deal for the first Black Sea Grain Corridor expires next month, the issue of whether it will be extended, expanded to include containers or ended comes to the fore.
Initially, it seems Ukraine's July agreement with Russia, Turkey and an international survey team in Istanbul that monitored bulk cargo shipments for military equipment, has worked sufficiently to extend the deal.
Just a week ago, on 14 October, Politico reported that the UN's Coordinator for the Black Sea Grain Initiative, Amir Mahmoud Abdulla, "was optimistic that the deal will continue."
However, Mr Abdulla spoke just a few hours before Russia's President Putin threatened to end the deal after what he called a "terrorist" strike on the Kerch Bridge, linking Russia with annexed Crimea.
But there appears to be some optimism that the deal can be extended with some calling for its expansion to cover containerised cargo too. This rests on the belief that an extended deal would be mutually beneficial.
Igor Zhigora, CEO of DP World TIS Pivdennyi, said: "We are committed to helping deliver humanitarian aid to those in need as quickly and efficiently as possible. Since the grain shipping corridor agreement was signed in July, we have led discussions within the industry about the potential of resuming container shipping."
Consultant Informall BG argues that many commodities in Ukraine cannot be exported because the grain deal only covers bulk shipping, while commodities like ferrous metals, ores, slags and cinder are not shipped in sufficiently large quantities and so must travel in containers.
As a result, the consultancy will send a proposal for an extension to the grain deal to Ukraine's Ministry of Infrastructure, which has a brief  that also covers transport and communications.
The proposal would again see Turkey playing a prominent role and would arrange inspections of ocean containers with humanitarian aid and other non-military civil goods destined for Ukraine during the transhipment via one of its seaports.
Moreover, Infomall believes Turkey is able to "free two birds with one key": while accommodating direct ocean container transport to Ukraine, feeder vessels will be reloaded with export containers that carry Ukrainian grains in return.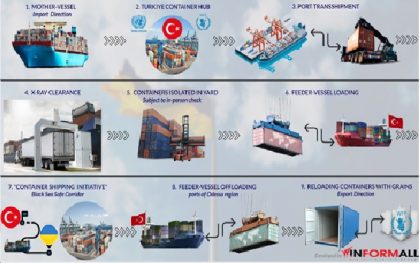 UN negotiators believe the original deal can be broadened, which would give room for Informall's proposed BSCC to take shape.
Daniil Melnychenko, a data analyst at Informall BG, argues that although grain and vegetable oil shipments have resumed in the ports of Chornomorsk, Yuzhnyi and Odessa, other key export commodities are restricted to alternative overland routes which are expensive and time-consuming, as they are not covered by the Black Sea Grain Initiative.
"Despite the international shipping community's efforts to accommodate Ukrainian import and export container traffic via alternative routes during the last seven-month period there is still no better logistics solution than to reopen Ukrainian container terminals on the Black Sea and restore direct liner services to our ports" he said.
According to Informall, Ukrainian container logistics costs have substantially increased since the beginning of the war, by 25%-40% depending on the final destination.
And container delivery times have also increased considerably, mainly due to slower last-mile deliveries, from an average of one to three days, pre-war, to seven-12 since February.
Vassiliy Vesselovski, CEO of Informall BG, calculated that if Ukrainian container terminals reopened today, ocean freight rates to the country would still not match those to neighbouring Romania, which currently handles 60% of Ukrainian container traffic.
"Insurance premiums and feeder operators' sea freight appetite will be the main factors influencing the final shipping cost to Ukraine. However, direct container shipping to the regional port of Odessa would allow savings of at least 25% on each shipment, owing to affordable domestic truck rates, shorter last-mile deliveries and the absence of cross-border transit procedures," he explained.
Oleg Kostyuk, general manager at freight forwarder Formag Group in Ukraine, told The Loadstar: "I fully support the idea [of a BSCC], it would help both the container terminals and the niche agricultural products which are hard to export, but I don't believe that the Russians will agree to other products."
He believes Russia may not accept x-ray inspections of boxes, but will insist on time-consuming and more expensive physical inspections. But he added: "That will still be cheaper than any other transport method."
He also pointed out that the main line operators would not risk their vessels, so it would be more likely that two feeder ships, one each from Turkey and Ukraine would ship containers from a Turkish port into the Black Sea corridor.
Around 253,000 teu of agricultural products, such as soya beans, oils and corn, were exported from Ukraine last year, exported by containers through the country's Black Sea ports.
Alexander Khromov a project manager of Informall BG said: "Amid falling ocean freight rates and the rising cost of food worldwide, the restoration of direct container services to Ukraine would make sense, from both a humanitarian and business view. At the same time, the initiative would address the food crisis in countries which used to receive Ukrainian agri-products before the war, including Oman, Yemen, Sudan, Kuwait, Somalia, Cameroon, Nigeria, Lebanon."