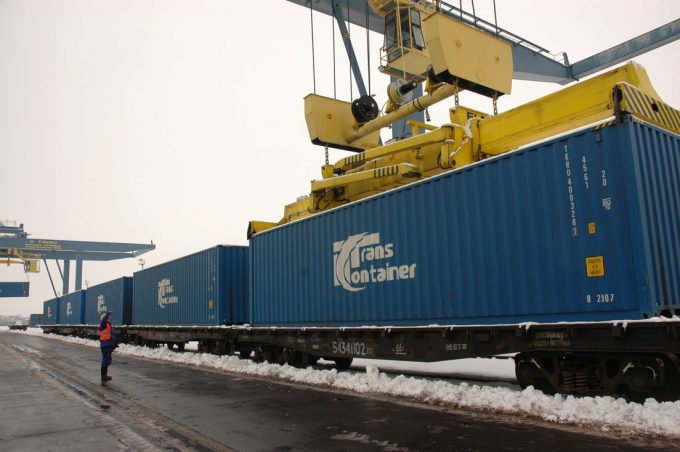 An eastern turn appears to have helped Russian intermodal operator TransContainer mitigate a collapse in Russian rail volumes this year.
Full-year 2022 figures from the Delo Group subsidiary indicate volume growth of 5.1%, to 1.8m teu, driven by spikes in imports (up 9.5%, to 400,000 teu) and exports (up 11.3%, to 700,000) – more than enough to offset a 200,000 teu shortfall in transit operations.
Data analyst for Odessa-based cargo consultant Informall Daniil Melnychenko told The Loadstar: "TransContainer's intermodal traffic is heading mainly to and from Asia. Largely, the markets appear to be China, Japan, and Korea.
"It is also likely that it increased its volumes of total loaded container traffic on account of ocean containers that were moving from Far East ports to Central Russia by rail."
It would appear the operator managed to increase its market share in the total loaded container traffic on the Russian rail network by 1.7% over the 12-month period, to 37.7% from 36% before the invasion of Ukraine.
Mr Melnychenko said it was also worth bearing in mind that Vostochnaya Port, in which Delo Group holds a 61.5% stake, increased its transhipment volumes by 20.1%, to 624,000 teu.
"Also, important to mention is that TransContainer, in cooperation with another Delo Group subsidiary, Ruscon, launched a liner service from the Black Sea port of Novorossyisk to India, where rail transport to/from the port is used as well," he added.
Nonetheless, he noted that, due to the "logistical, geopolitical, and macroeconomic changes" created by the war, the share of last-mile rail deliveries from Novorossyisk were far lower than from Far Eastern ports, leaving it a "minor contributor" to the overall performance.
Overall, the Russian container market experienced a 15.8% year-on-year decline. Findings from Fesco show imports dropped 12%, to 2.1m teu, with exports plummeting 25%, to 1.5m teu, as sanctions bit, leaving Russian shippers scrambling to find alternate markets for their goods.
Unlike its rival, Russia's largest intermodal operator, Russian Railways, is struggling after being shut out of key global supply chains by sanctions, seeing volumes fall 10% since the invasion.