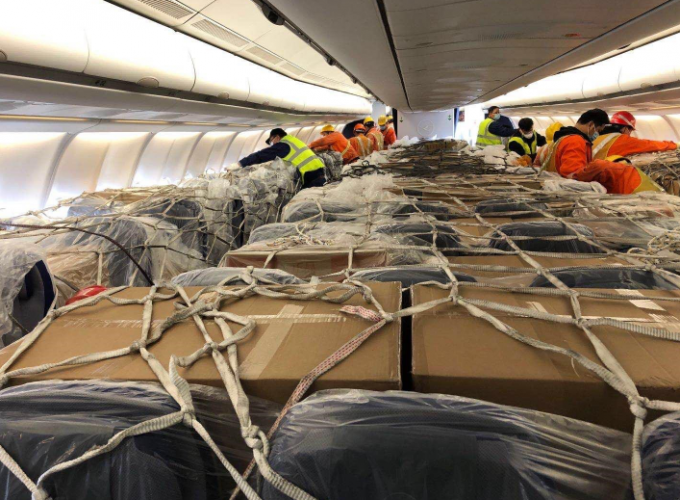 European air freight connections to China are climbing again.
On Tuesday, Air France KLM Martinair (AF-KL-MP) dispatched a B747-400 combi to Shanghai and in the coming week will start belly cargo to Beijing and Shanghai three times a week, said Gertjan Roelands, senior vice-president sales & distribution.
On Wednesday, a Lufthansa A330, loaded with urgent medical relief cargo from China in its bellyhold as well as the stowage space on the passenger deck, landed in Frankfurt, and Swiss WorldCargo is running two flights in the week with A340s to move cargo between Zurich and Hong Kong.
The collapse of passenger numbers has led to the implosion of airline networks: United Airlines suspended 85% of its schedule, Lufthansa slashed its flight schedule by 95% and Cathay Pacific by 96% (both have maintained freighter operations, though).
United also suspended the shipment of pets and human remains on its international flights.
It was the first US airline out of the gates with cargo charter flights using passenger planes, launching a flight between Chicago and Frankfurt on 19 March.
The next day American Airlines dispatched a B777-300 from Dallas/Fort Worth to Frankfurt, and since then the number of belly charters has been growing as more airlines have jumped in. In North America, Delta and Air Canada have joined United and American.
LATAM is using passenger planes for cargo flights between Santiago and Mexico City and for a domestic connection in Peru, while Avianca ran its first Bogota-New York belly charter yesterday with a B787.
In Europe, Virgin has followed the lead of AF-KL-MP, Lufthansa and Swiss, while British Airways has signalled interest in belly charters.
In Asia, Cathay Pacific has been an early proponent, using passenger planes on routes between Hong Kong and China to haul freight. Scoot and Korean Air have also fielded passenger aircraft for cargo missions.
While the Asian carriers have focused on intra-regional routes, North American carriers are primarily targeting the North Atlantic, where belly capacity traditionally moves more than 60% of the cargo traffic. United's initial charter plans aim to connect its US gateways in Newark, Chicago, Houston and San Francisco with Amsterdam, Frankfurt and London on the European end.
Air Canada is targeting the same three European gateways from its Toronto hub, said Tim Strauss, vice-president cargo. "It's half the distance to Asia. Your variable cost goes up to Asia.
"And Shanghai is on the table," he said, adding that pent-up demand would make the transpacific sector more appealing in a week or two.
Many of these charters are poised to turn into regular operations. Swiss has said it would run more flights on the Zurich-Hong Kong sector and that "additional destinations and aircraft may be selected, based on customer needs for global shipping".
AF-KL-MP is going for a mix of ad hoc and regular charters.
"We try to set up a kind of mini-network, serving Atlanta, New York, Los Angeles and Chicago," Mr Roelands said, and reckons these will be served twice a week. "Other destinations are possible, but charter-based," he added.
Air Canada is planning a slow frequency to begin with. Some sectors may be up to five or six flights a week after a while, Mr Strauss said. "We can invoke our passenger slots," he noted.
United envisages an operation of, initially, 40 charters a week. It will accept the whole gamut of bookings, from shipments to chartering full planes, a spokesperson said.
The skeleton passenger networks that have operated over the past couple of weeks have hauled little, if any, commercial cargo.
"We carried only urgent, absolutely necessary stuff, not commercial cargo. We didn't sell on the open market," Mr Strauss said.
Mr Roelands said: "We make sure we are able to transport goods that are essential at this moment. This is high priority."
So far, AF-KL-MP has been able to cope with existing volumes. It certainly helped to have its freighters. The airline has done some tweaking of its schedule to boost transatlantic lift, but t continues to serve all main deck destinations in its network.
As charters now aim at the commercial market, the race is on to secure lift.
"We work with the forwarding community 99% of the time. Naturally we go to these first," Mr Strauss said.
For the most part, charters cannot be booked through electronic channels. Both United and American refer customers to their local sales teams. AF-KL-MP also directs its clients to local sales teams, which liaise with a charter desk that the carrier has set up to handle this traffic.
The rest of the network – freighters and scheduled departures – can be booked through the regular channels, including online booking, Mr Roelands said.