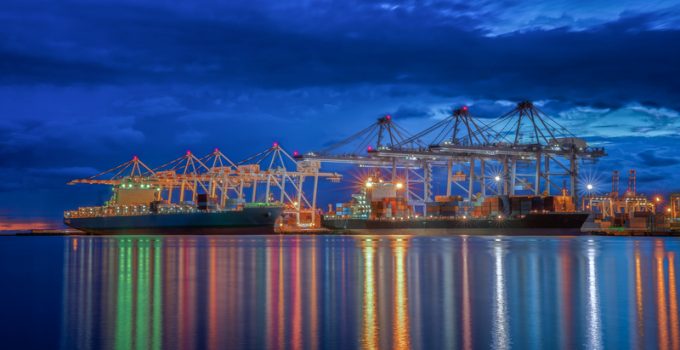 After its acquisition of APL, French shipping line CMA CGM is expected to also sign a joint-venture agreement to develop a new hub at Singapore with the port's operator, PSA.
The move was indicated last year with CMA CGM's original takeover offer, accompanied by a series of mollifying comments from vice-chairman Rodolphe Saade to Singaporeans clearly worried about their jobs.
He said: "We understand the sensitivity of selling NOL and we have committed to establishing a regional office in Singapore; and we will significantly increase volumes with PSA.
"NOL's current volumes will be kept with PSA and we will shift some volumes away from other hubs, and we believe in view of the acquisition that it makes sense to establish a strong base in Singapore rather than have many smaller offices around the region," he added.
APL's majority owner, Temasek, the Singapore government's investment vehicle, will shortly sell its 67% stake in the line to CMA CGM, and the pledges are included in the Voluntary Conditional General Offer for the sale, which was published on Monday.
"CMA CGM and PSA ST will establish a joint-venture company (JVCo), to be held by them in proportions of 49% and 51% respectively, to operate and use berths as a dedicated container terminal in Singapore, for containers and container vessels of CMA CGM and its affiliates," the document says.
JVCo will lease four berths from PSA, with an expected capacity of 3m teu a year, according to industry analyst Alphaliner.
A PSA spokesman confirmed the agreement to The Loadstar: "PSA has signed a joint-venture agreement with CMA CGM to provide dedicated berths for its vessels calling at Pasir Panjang in Singapore."
PSA is 100% owned by Temasek, and the deal shows how the company has managed to turn the weakness of its liner activities into an advantage for its massive terminal operating company. However, recent years have been lean for PSA, with competitor ports attempting to break its dominance of regional transhipment volumes, according to Alphaliner.
"PSA's share of the South-east Asia (or 'Straits') container transhipment volume has fallen from 89% in the year 2000 to only 62% in 2015. Singapore's overall container throughput has fallen 7.8% in the first four months of this year, following an 8.7% loss last year, whereas its key competitors gained ground," it said. The losses have translated into gains for the Malaysian hubs of Tanjung Pelepas and Port Klang.
The chief loser from the CMA CGM deal will be Port Klang, currently the carrier's South-east Asian hub, and its main operator. Westport. Alphaliner data shows some 20% of Port Klang's throughput is CMA CGM traffic – and sources suggest the changes could begin to take place as soon as the second half of this year.
Alphaliner suggests Singapore's grip on CMA CGM volumes is expected to further strengthen when the new Ocean Alliance launches next April, given that the new grouping will see the French line come together with COSCO-China Shipping, Evergreen and OOCL.
This March COSCO's terminal operating arm, COSCO Pacific and PSA, agreed to move its current two-berth joint-venture terminal at Pasir Panjang Phase 1 to three new berths being built at Pasir Panjang Phases 3 and 4, which are scheduled to begin operations next year.
China Shipping, which merged with COSCO earlier this year, also currently uses Westports at Port Klang as its main South-east Asian hub, Alphaliner noted.
"PSA's next target will be Evergreen, which currently uses Tanjung Pelepas as its hub in the region. Evergreen will join CMA CGM and COSCO in the Ocean Alliance. The Taiwanese carrier will do so alongside a fourth member carrier, OOCL, which already uses PSA Singapore as its main 'Straits' hub.
"The Ocean Alliance is to start operations next April and PSA's success in establishing joint-ventures with two of the carrier group's core members will likely result in Singapore being used as the alliance's main hub in the region. Port Kelang, nevertheless, is expected to be retained as a secondary hub," the analyst said.