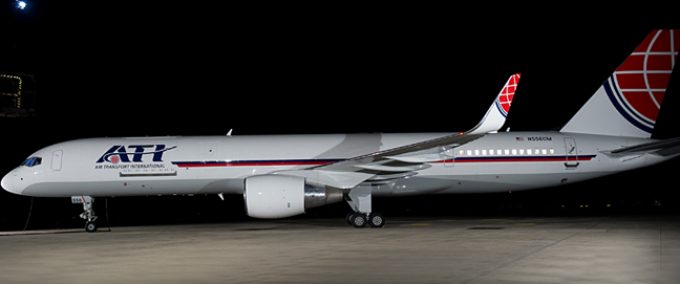 Chinese bureaucracy has stymied ATSG's plans for a joint venture airline, and overshadowed news of a strong first quarter for the air freight operator.
Chief operating officer Rich Corrado said the company had "suspended" its planned AOC in China, citing "ongoing regulatory delays", particularly from late 2016 and into 2017.
"During that time, the JV partners looked at some alternatives in terms of doing some different things while we were delayed," Mr Corrado told analysts on an earnings call.
"Since then, we've stepped back and are looking at our entire China strategy, so we've suspended the JV in forming a new AOC, a new airline within China to fly cargo."
ATSG joins Cargolux and others whose attempts to get a cargo airline off the ground in China have been skittled by regulatory hurdles.
Last month, the Luxembourg-based carrier's chief executive Richard Forson told The Loadstar it looked as though its attempts to launch would be delayed for at least another year.
"We are working on it. We are talking with local branches of the aviation authorities in China about any additional requirements," said Mr Forson.
"One of the questions is to what extent the airline would have to have Chinese pilots? – there is a significant shortage in China. And there are other technical issues."
Mr Corrado said that, alongside the regulatory delays, ATSG's acquisition of Pemco last year has also altered the company's overall strategy.
In particular, he noted that the acquisition provided the company with "new relationships" with some existing carriers within China.
"[These] are opening up some strategic opportunities on a number of different fronts across our portfolio of companies that we are looking to hopefully build on from there," he added.
"So it didn't seem wise to continue with a new airline given some of the headwinds we were facing and some of the significant opportunities with existing potential partners."
Chief executive Joe Hete told investors the focus behind the JV was to give the company a "more preferred seat at the table when it came to leasing aircraft".
Mr Hete added: "But at the end of the day, it was really more about deploying capital through leasing of aircraft into the Chinese market, which you don't have to have a JV structure to do."
Despite problems in China, the three months to March proved a bonanza period for the company with a 26% year-on-year upturn in profitability – EBITDA hit $71.9m.
The rate of profit growth was more than double the 11% growth reported in revenues for the period ($203m) with Mr Hete noting the reduction in federal taxes.
"Continued earnings improvement from our airline businesses and the reduction in the federal tax rate drove a more than doubling of our first quarter adjusted earnings from continuing operations compared to last year," said Mr Hete.
"The outstanding efforts of our employees, and strong customer demand for our growing portfolio of freighter aircraft, point to further success during 2018.
Growth was recorded across the company's four divisions, with its ACMI business turning around a pre-tax earnings loss of $3.5m, to record a profit of $3.9m over the first quarter.
While conversion and leasing of its Boeing 767 fleet remains its strongest earner, Mr Hete said ATSG was also seeing notable growth in its wider fleet.
"As we build our 767 lease base, we are pressing ahead with our partner, Precision, to gain FAA approval for a converted freighter variant of the A321," said Mr Hete.
"Once our prototype is certified, we intend to invest to provide A321s to express customers that need a narrowbody to complement the 767 with capacity similar to a Boeing 757-200 but operating costs more like the 737-400."
He noted that ATSG has just delivered its second 737-400 to West Atlantic, which will be taking another by the end of the year alongside four 767-200s.
"One in Q4 of 2017, plus two in 2018… growth there is looking very good," he added.
You can read ATSG's full results here, and the earnings call here.