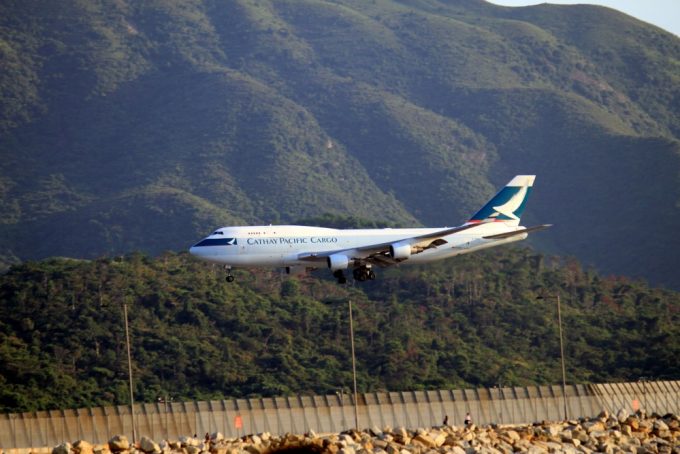 Last month, Cathay Pacific operated its fewest cargo flights since the Covid-crisis began, despite Hong Kong relaxing crew quarantine restrictions.
And now, with volumes expected to make a comeback, it has concerns over potential bottlenecks from the city's new air cargo screening rule.
Cathay carried 73,113 tonnes of cargo and mail in April, down 13.6% year on year, following a capacity drop of 41.7%, measured in available freight tonne km.
The airline's chief customer and commercial officer, Ronald Lam, said: "While we welcomed the easing of quarantine restrictions for cargo aircrew in Hong Kong in mid-April, the positive impact was not immediately realised, due to crew rostering lead time, and our overall capacity last month remained significantly affected.
"The number of freighter and cargo-only passenger flights we operated was lower than at any point since the Covid-19 pandemic began, limiting our ability to provide more lift to what was a reasonably buoyant cargo market, particularly on long-haul routings."
This created a load factor of 83%, Mr Lam added, noting the airline saw "surges in demand" for vaccine-related medical and healthcare supplies.
He expects Cathay's cargo schedule this month to "gradually recover as more of our crew are fully vaccinated".
Indeed, with capacity expected to ramp up again, the pressure will be on forwarders as they adapt to Hong Kong's new air cargo security screening rule, the final phase of which began in March.
Brian Wu, former chairman of the Hong Kong Association of Freight Forwarding & Logistics (HAFFA), said: "Other than some basic teething troubles, which were co-operatively resolved, agents' operations appear to have coped quite smoothly."
However, he said, some HAFFA members had said this "may be attributed to low cargo volumes, and that bottlenecks might have resulted had cargo demand been at 'normal' levels".
And Frank Yau, Cathay Pacific head of cargo sales for Hong Kong, said the resurgence of cargo volumes could see warehouse screening equipment reach full capacity.
"Especially during peak periods, based on their capacity," he told The Loadstar. "I expect the challenges for forwarders/warehouse operators will be extending their capacity by finding more warehouse space to cater for peak demand, while their capacity will be likely under-utilised during slack periods – and that will definitely drive the unit cost up.
"The handling time will be another challenge; they are trying to prioritise more urgent shipments for screening at the moment, but it will become more difficult for them to prioritise when cargo volumes return to normal."
Mr Wu said HAFFA members and other market players should be able to cope, however.
"We have regular meetings with the government, cargo terminals and related stakeholders to review the capacity and operations. Most likely 'friendly co-loaders' will help each other out if some of us reach the screening bottleneck."