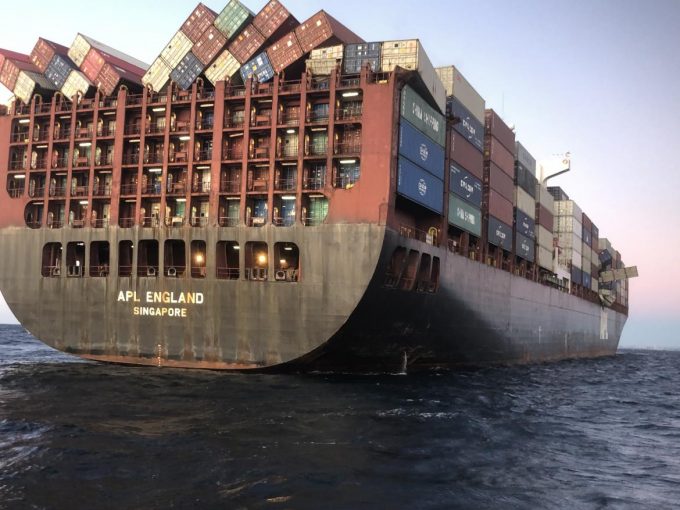 The master of the arrested APL England is to be prosecuted in Australia and could be held responsible for the loss of around 50 containers lost overboard last week.
"The offences relate to pollution and/or damage of the Australian marine environment as a result of poor cargo loading," the Australian Maritime Safety Agency (AMSA) said in a statement today.
"Laying charges against the ship's master is not action we undertake lightly, but this and other incidents remind us of the important role the ship's master has in ensuring the ships that ply our waters are operated safely and do not damage our marine environment.
"Today's actions should not detract from the responsibility of the ship owner APL Singapore, insurer Steamship Mutual and operator ANL which remain accountable for remediation of any impacts of this incident," it added.
The master today appeared in Brisbane Magistrates Court to face two charges: discharging of garbage into the sea; and not ensuring that the vessel was operated in a manner that did not cause pollution to the marine environment in the coastal sea of Australia.
The offences carry maximum fines of more than A$300,000 (US$202,000). The case was adjourned until 12 June.
The containers were lost overboard on 24 May when the vessel, steaming from Ningbo to Melbourne, encountered heavy weather off the coast and suffered from a temporary loss of propulsion, which led to the vessel rolling heavily and the stack collapse.
The ship then docked at the port of Brisbane, where AMSA arrested it after an inspection revealed that "lashing arrangements for cargo were inadequate and securing points for containers on the deck of the ship were heavily corroded".
AMSA general manager of operations Allan Schwartz said: "As of today, AMSA has placed an additional requirement on the owner of the ship under the Protection of the Seas Act, which must be met before the ship will be released from detention.
"This action seeks financial security from the insurers in the order of A$22m. This provides a commitment that they will remediate all impacts of this incident. That $22m covers estimated costs, including that of a clean-up."
ANL, the CMA CGM subsidiary that was operating the vessel, suggested the incident could have been far worse and said it had begun clean-up operations.
"Through the height of this storm, the crew of this vessel leveraged their training and navigational skills to manoeuvre the containership into safety.
"This was an unnerving event, even for seasoned maritime professionals, and the captain and the crew have ANL's full support.
"We are fully cooperating with the authorities in transparency in their investigations.
"ANL has immediately appointed Varley Group as well as Avcon Projects, both of which have expertise in environmental clean-ups, to remove debris and containers that reach the coast. Clean-up actions throughout the New South Wales shoreline will continue whilst debris come ashore on the coast," it added.