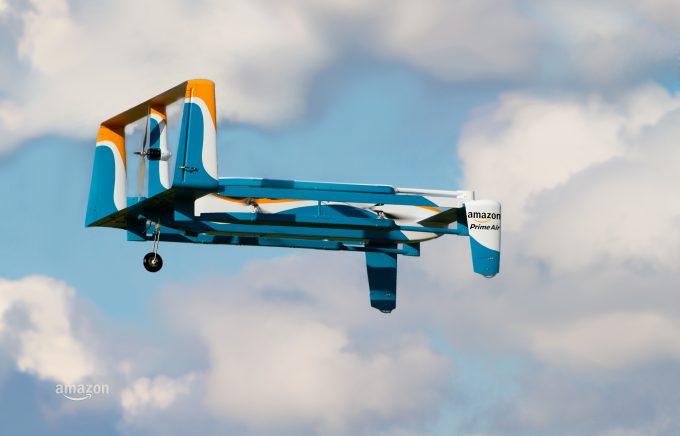 The UK government has agreed to let Amazon test its new delivery drone technology in trials that have been banned in the US.
Critics in the UK have warned that the introduction of drone technology, without proper understanding of its implications by operators and shippers, could cause a supply chain "nightmare".
The Civil Aviation Authority (CAA) has given Amazon permission for its Prime Air research and development programme to investigate three key areas of drone technology that will be crucial for their widespread adoption: beyond line-of-sight operations in rural and suburban areas; testing sensor performance to make sure the drones can identify and avoid obstacles; and flights where one person operates multiple highly automated drones.
Paul Misener, Amazon's vice president of global innovation policy and communications, said: "This announcement strengthens our partnership with the UK and brings Amazon closer to our goal of using drones to safely deliver parcels in 30 minutes.
"Using small drones for the delivery of parcels will improve customer experience, create new jobs in a rapidly growing industry and pioneer new sustainable delivery methods to meet future demand.
"The UK is charting a path forward for drone technology that will benefit consumers, industry and society."
Prime Air drones have a range of 10 miles and maximum cargo weight of 2.26kg.
Jim Hoefflin, president and COO of supply chain and logistics software developer Kewill, explained the CAA's approval.
"Drone delivery for the UK means that, for once, rural areas may have an advantage. Traditionally, rural and suburban parts of the country are slow to receive services like same-day delivery or super-fast broadband. But the use of drones is actually much more feasible outside of cities, as collision avoidance will be a much less daunting challenge for the devices than in built-up urban areas.
CAA policy director Tim Johnson added: "We want to enable the innovation that arises from the development of drone technology by safely integrating drones into the overall aviation system. These tests by Amazon will help inform our policy and future approach."
However, Mr Hoefflin also outlined potential problems with the introduction of drone deliveries to consumers.
"Regardless of the delivery destination, their introduction could cause a supply chain and logistics nightmare if companies are not careful.
"Many organisations still rely on outdated legacy processes which would make the incorporation of drone delivery a very steep learning curve.
"Drone delivery also throws up questions about redefining traditional supply chain routes. For example, how will goods reach the supplier from the manufacturing line?
"Not only that, drones will inundate organisations with a huge amount of real-time data not previously available."
He added: "In order to simplify the process, organisations need to ensure they have transport management systems in place that can automate logistical pain points – setting package weight limits, for example, or ensuring drones deliver safely to challenging destinations – rather than inputting each detail individually.
"Tighter integration between systems will also enable businesses to manage all the new data being delivered."
In its latest guidance issued at the end of June, the US Federal Aviation Administration, which banned the tests, said drones must remain within sight of the operator, who also cannot remotely fly more than one drone at a time.