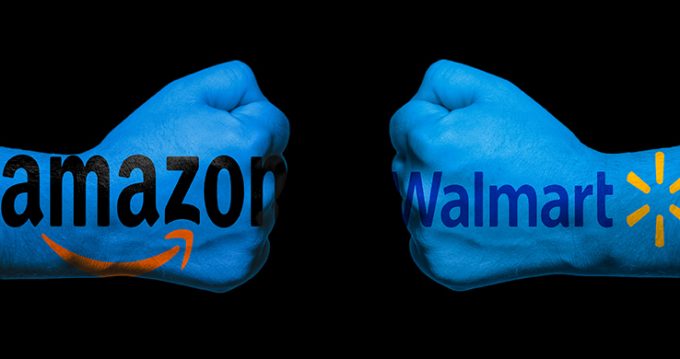 Amazon and Walmart are grappling with a rare affliction in the current market: while most companies in the US struggle to find labour and warehouse capacity, the two giants' bottom lines are being hit by an excess of both.
Amazon, famed for using predictive analytics to position inventory close to anticipated markets, has been less successful in terms of anticipating staffing and warehousing needs, going on a hiring spree and raking in as much warehouse space as possible.
Now the company has warehouses with empty shelves and more workers than it needs.
Towards the end of last year, it had built or leased 34.4 million sq metres of industrial space in the US, double the capacity it had two years earlier and significantly more than it actually needed. This excess space is expected to add $10bn in costs in the first half of the year.
Recruitment was equally in overdrive. In its earnings call on its Q1 results, CFO Brian Olsavsky said the e-commerce giant "committed to as much [space] as we could to handle the volume that we saw".
The Omicron outbreak threw management into a loop and Amazon rushed to bring in workers to compensate for infections only to find employees that caught the virus returned to work sooner than expected. In the second half of the first quarter, Amazon rapidly transitioned from being understaffed to being overstaffed, said Mr Olsavsky.
This reduced productivity translated into some $2bn of additional costs.
Walmart had a similar experience: having hired workers to cover for employees out with Covid, it went through weeks of overstaffing in the first quarter, said CEO Doug McMillon.
So, with inflation pushing up costs, the excess money Walmart and Amazon spent on labour and warehousing seriously dented their first-quarter results. The share of Amazon's fulfilment costs of operating expenses soared from 28% in 2019, to 35%.
Amazon lost $3.8bn in Q1, largely attributed to a $7.6bn pre-tax loss in its stake in electric truck maker Rivian, but operating costs also delivered a blow, rising 16% to $71bn, climbing twice as fast as sales in North America.
Walmart's net income for the first quarter dropped from $2.73bn a year earlier, to $2.05bn, missing Wall Street expectations by a wide margin, which sent its share price down 11.38%. Supply chain problems, elevated logistics costs and a 33% surge in inventory took their toll on the balance sheet.
Mr McMillon told analysts the excess labour situation had been resolved during the first quarter, mainly through attrition. For Amazon, overstaffing is also widely expected to be a short-lived headache, given its high turnover rate – according to a New York Times report, this has hovered around 150% in recent years.
To deal with the warehouse overcapacity, Amazon chiefs are reportedly looking to sub-let about 930,000 sq metres of warehousing – a small fraction of what it added in this segment in recent years, but it will presumably be gobbled up quickly.
Reports indicate that the properties in question are in markets with tight storage capacity, such as New York, New Jersey, Atlanta and California. Moreover, companies are still desperate for warehousing. Inventories have risen in recent months and are expected to jump when goods from China, delayed by the shutdown in Shanghai, arrive in large volume.
US inventory levels have been climbing since October. US stockpiles in February were estimated to be worth $686.4bn, 12.5% higher than in October, and the inventory-to-sales ratio has remained largely unchanged, although the picture is strikingly different in some segments. Inventories of bulky items, like furniture and appliances, are reportedly returning to pre-pandemic levels.
This rise in inventory, together with runaway inflation and the repercussions from shutdowns in China and war in Ukraine, has prompted predictions of a slowdown in the freight market.
Opinions are divided, but there is no argument that costs are biting; even Amazon cannot shrug these off. The company has introduced a fuel and inflation surcharge of 5% in the US and 4.3% in the UK, Germany, France, Spain and Italy.
Amazon has denied that this is linked to the extra spend on redundant warehouse and labour capacity, but users hit by the surcharge wonder…