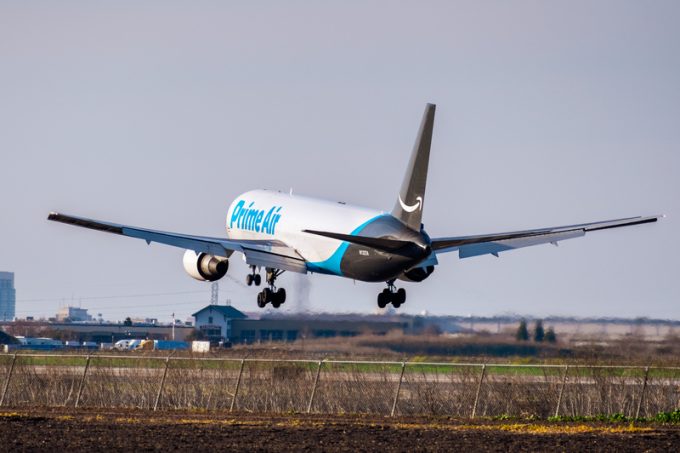 The freighter fleet of Amazon Air could swell to 200 in the next seven to eight years, according to a study by the Chaddick Institute for Metropolitan Development at DePaul University, Chicago.
This prediction doubles an estimate by Morgan Stanley a year ago, and Joseph Schwieterman, the institute's director and one of the authors of the study, cited several factors that point to a significant expansion of Amazon Air.
Firstly, it is a cornerstone of Amazon's aggressive push of its next-day and second-day standards for the flagship Amazon Prime service.
"The big push into one-day delivery requires more capacity," he said, adding that the pace of construction of distribution centres requires ample logistics support.
Amazon's momentum in recent years also points to a need for a considerably larger aircraft fleet, but to support a set-up with 200 freighters, it needs compound annual growth of 19.9%, the Chaddick study found. This is less than half of Amazon's growth rate in the 2016-2019 period, the authors note.
And Mr Schwieterman said added: "Two hundred planes is a conservative estimate, if Amazon aspires to a global presence for Amazon Air."
Compared with the airline arms of FedEx and UPS, (463 and 275 aircraft respectively), Amazon is a minnow. However, its fleet has grown in a relatively short time to 42 aircraft, operating about 100 flights a day, and is due to go up to 70 units next year.
Currently, Amazon's package volume is also considerably below those of the integrators. The Chaddick study estimates that Amazon delivered 2.3bn packages in the US last year – well below the 3.1bn by FedEx and UPS's 4.7bn, and the US Postal Service's 6.2bn parcels.
And unlike the integrators, Amazon is not using widebody freighters on intercontinental routes. The Amazon Air fleet of 767 and 737 aircraft, is concentrated on the North American market.
"They're not going to saturate the market," Mr Schwieterman said, and does not see a major role for Amazon Air to fly large freighters across the Pacific.
But international growth is important for Amazon; in the long run, the US market is not going to yield a 20% CAGR, Mr Schwieterman said.
At this point, the Amazon Air operation is very different from those of the flying arms of the large integrators, the Chaddick study also points out. There is more flexibility in the schedule and some airports are not served on a regular basis. However, Mr Schwieterman expects the schedule to become more set as the operation grows.
Another significant difference is the amount of flying Amazon Air is doing during the day. According to the Chaddick study, about three-quarters of its flights take place between 6am and 10.59 pm. The push of next-day delivery service is bound to usher in more night flying, though.
Amazon has so far eschewed the hub-and-spoke model that is central to integrator operations. It runs a large number of point-to-point flights and only 20% touch Amazon's main hub at Cincinnati – although again this will likely change with the development of the airport into a mega-hub, Mr Schwieterman pointed out.
Overall, the study's authors note, the Amazon Air network so far is geared chiefly to linking the company's sorting and fulfilment centres, rather than provide a network for nationwide overnight service. Moreover, while there is an element of competing with integrators, it seems designed more to augment and supplement their networks rather than to replace them, according to Chaddick.
One major question is, how far the construction of a mega-hub at Cincinnati is going to change the picture, Mr Schwieterman said. "It could be a catalyst for a transformation of Amazon Air into an overnight operator."
The hub will have the capacity to handle 100 aircraft. It has also drawn a significant commitment from the public sector, which has built a new highway interchange and is widening access roads to the area, Mr Schwieterman noted.
He expects Amazon to add further airports in the US to its network. This should open opportunities for some contenders, primarily cargo airports. The study points out that, more than the integrators, Amazon's choice of airports so far suggests it favours candidates with few or no passenger operations.
And available land seems another factor: "Amazon needs land for custom-built facilities," Mr Schwieterman added.
The growth of its business and the development of its Cincinnati hub suggest Amazon Air is going to change in several ways to resemble the air operations of the integrators. However, Mr Schwieterman rules out a fully-fledged metamorphosis.
"Amazon marches to the beat of a different drum. I don't expect it to become a clone of FedEx," he said.