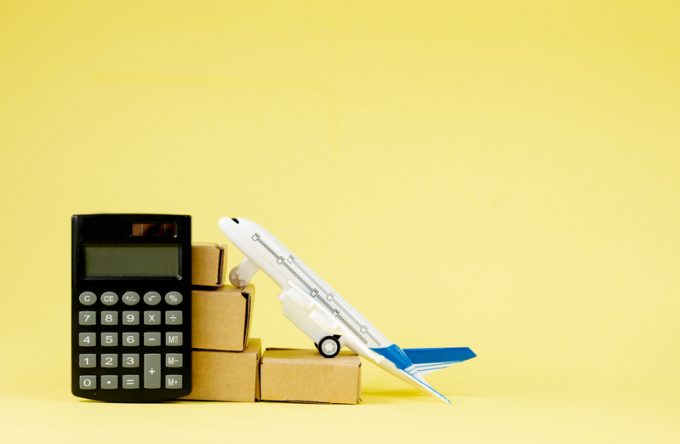 Air freight volumes were slightly depressed in March, but anecdotally carriers are expecting a strong April – and that's before any movement of distressed ocean freight.
The latest data from Clive Data Services shows that volumes in March 2021 were 3% lower than demand in March 2019 – but 29% higher than the outlier month of March 2020, the beginning of the pandemic.
However, a shortfall of 14% of capacity compared with 2019 points to "relentlessly" high rates and load factors now.
Clive noted that volumes were down some 4% versus 2019 by the end of the month, as demand worsened, following a slight recovery in January and February.
Dynamic load factors were 73% in March, up seven percentage points from March 2019.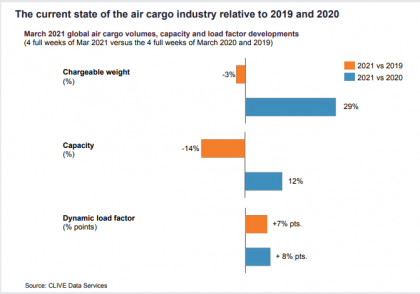 "March data shows us the market is still very supply driven," explained Niall van de Wouw, managing director of Clive.
"After indicators that the global air cargo market was seeing some 'light at the end of the tunnel' in January and February after a year of such high disruption, this latest industry data will reign in that optimism slightly.
"This may reflect Covid-19 fatigue in the buying habits of businesses and consumers as we see more reports of infection rates creeping up again in many countries, fears of a possible third wave of the virus, more lockdowns and curfews, and concerns over both the supply and effectiveness of vaccines.
"Flights are very full from a cargo point of view, but with no recovery in the passenger market, airline intercontinental operations are still mainly cargo-driven and they need higher rates to make these operations financially viable."
Clive recorded 90% load factors on transatlantic westbound for the last two weeks of March, and some 80% eastbound, pushing rates up. On China-Europe, volumes were 7% higher than in the second week of March 2019, but fell to 6% and 4% in the following weeks. But westbound flights had a dynamic load factor of 93%.
Forwarders in the UK have recently complained of a dearth of capacity, and high prices. The UK is importing millions of Covid-test kits, while carriers such as IAG have also seen high volumes of hi-tech coming into the country. But it appears the export market is also attracting high rates: the TAC Index pointed to a rate increase from Heathrow to North America of 8%, or £0.28 in March against February. The highest price in March – £4.04 – was a 45% increase over March 2020, while versus 2019, it is a 400% increase.
But, said Robert Frei, business development director for the TAC Index, despite these headline numbers on certain trades, in fact, the market is far less volatile than it was.
"Pricing in March and February did not show big volatility month-over-month and, also, the intra-month volatility was not as big as in previous periods.
"Whether this can now be viewed as a relatively stable situation on a much higher level than in 2019 remains to be seen. It is definitely interesting to note that pricing on all lanes discussed here are higher than at the end of March 2020 when the PPE impact kicked in."
April's figures will be interesting: some airlines are claiming to be fully booked for the whole month, and are expecting to be full for May too, with Covid-related products, ecommerce, and hi-tech, while retailers are also looking to replenish stocks. Any spare capacity is likely to be snapped up by shippers desperate to avoid the chaos and delays in ocean freight caused by the Suez blockage – which could add a streak of volatility back into the market.