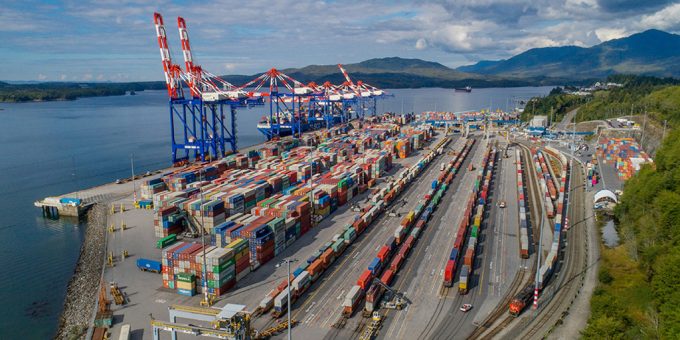 The 2M is the latest container shipping alliance to return more capacity to the transpacific trades.
2M partners Maersk and MSC said today they "continued to see strong demand and volumes with imports into the US".
Maersk told customers today the TP8/Orient and TP11/Elephant services, which had been "structurally blanked in the second quarter", had been reinstated and that the number of blanked sailings during China's Golden Week holiday would be lower than normal this year.
However, it warned shippers there was still a number of threats to container supply chains between Asia and North America, largely stemming from the unexpected demand, and urged customers to "add more buffer to supply chain schedules to allow for potential disruptions/delays".
It said disruptions were largely related to landside issues, including possible port congestion in Vancouver and Prince Rupert, chassis shortages in west coast ports, a lack of empty containers in Asia and labour shortages among truck drivers, warehouse and terminal staff.
The latter, it explained was a result of  CDC guidelines on social distancing in warehouses, drivers having parked their trucks returning to their home country and for "more casuals employed as longshore labour".
Maersk also urged importers to return empty containers as quickly as possible, as this was having impacts beyond just the availability of equipment in Asia.
"A significant number of chassis are being used to store full import containers, resulting in increased dwell times," the carrier explained. "We highly recommend the return of empty containers to free up chassis and improve operational velocity in terminals and storage yards.
"The equipment flow this year from Asia has been very one-sided, with import flows the dominant player. To balance the flow – and restore containers to Asia asap – we are eager for export cargo and empty returns to ensure equipment availability in Asia."
Vancouver and Prince Rupert ports depended heavily on the efficiency of intermodal operations, it said.
"Rail operators are keeping pace with car support into Prince Rupert and Vancouver/Centerm but are experiencing heavy volumes every week. In the last week, CN had an agriculture train derail, resulting in three-day disruption which will be felt in Vancouver. The derailment was fixed and normal flows are resuming," Maersk said.
The TP8/Orient service runs between Shanghai, Qingdao and Ningbo to Long Beach and Oakland and deploys six vessels of an average 10,200 teu capacity; while the TP11/Elephant string services the US east coast ports of New York, Virginia and Savannah via the Suez Canal, with calls at Yantian, Singapore, Colombo and Salalah. It deploys 11 vessels with an average capacity of 7,400 teu, according to the eeSea liner database, and includes Zim as a slot charterer.