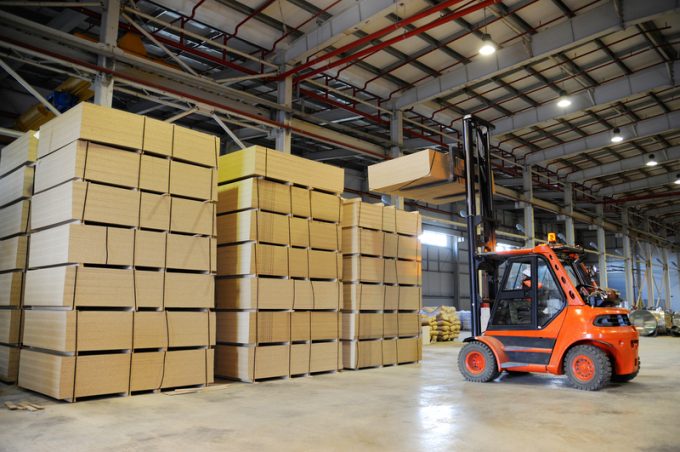 The warehouse crunch is getting worse: projections from logistics property management firm Prologis and real estate specialist CBRE indicate that hundreds of millions of square feet of warehouse space will be needed in the US alone over the coming years.
A new report by Prologis Research suggests that, in the US market alone, for the next two or three years, 150-200 million square feet of new warehouse space will be needed every year.
This demand will be driven by two dynamics – the accelerated adoption of e-commerce and higher inventory levels – in response to supply chain disruption  firms have suffered as a consequence of the pandemic. And the biggest push is going to come from the latter, Prologis predicts.
Its study points out that the retail sector saw inventory-to-sales ratios drop from an average of 1.65 in the 1990s to 1.45 in the eve of the pandemic. With supply chains so lean, many retailers could not respond adequately to sudden changes in demand.
To avert similar experiences in future, mean stock levels could go up between 5% and 10%, which would translate into aggregate demand for an additional 285-570 million sq ft of space.
"Several customer groups stand out for having very lean supply chains at present, including food & beverage, electronics/appliances, healthcare and diversified retail. In the 'new normal', the logistics real estate demand created by a reassessment of ideal inventory levels could be concentrated in customer industries that held little buffer stock, pre-Covid," the Prologis Research team concludes.
Another 46 million sq ft will be needed to accommodate each percentage point shift of retail sales from brick-and-mortar outlets to online sales channels. Based on the 30% growth rate of e-commerce from March through mid-April, Prologis estimates that 140-185 million sq ft could be required in this segment.
Groceries are expected to lead this trend, followed by healthcare and consumer products. The rise in consumer delivery volumes is going to put the focus on locations that are closer to end consumers, Prologis finds, pointing to tight delivery windows and the need to keep final-mile costs down.
CBRE also predicts a rise in warehousing demand, driven chiefly by concerns about potential future supply chain disruption. A 5% increase in inventory levels would require 400-500 million sq ft of new warehousing space, the firm pointed out.
US marine gateways would be the most appealing locations, but space constraints undermine this avenue. Instead, locations near Los Angeles, Atlanta or Memphis will likely attract much interest, CBRE found.
In addition to space needed for higher inventory levels and accelerated e-commerce adoption, Prologis sees even more demand springing from shifts in manufacturing locations, such as on- and near-shoring, but this is unlikely to manifest itself in the near term.
"These changes, being more costly and complex than relatively simple distribution network shifts, are likely to be a long-term trend that plays out over years," say the study's authors.