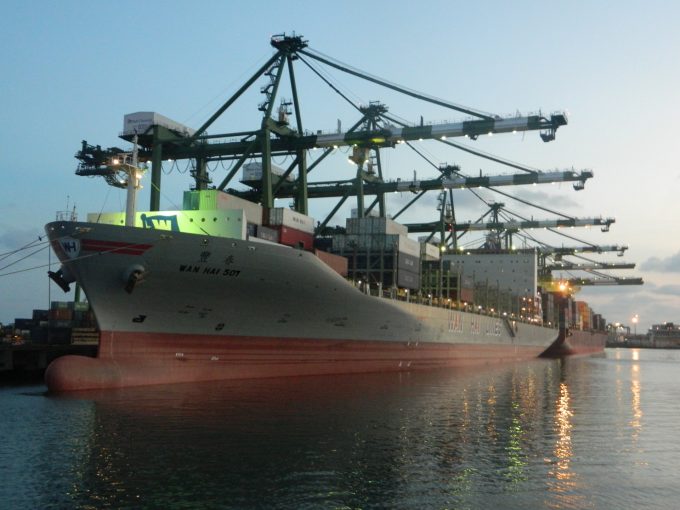 The trend for container lines – predominantly those operating in intra-Asia trades – to introduce new connections out of India to capitalise on the buoyant market is seeing further traction.
The latest entry comes from Wan Hai Lines, an independent service connecting South China, Vietnam and East India, which may prove a boon to the export-import community in India's south-eastern markets caught up in growing schedule reliability woes from fewer available connections.
The Taiwanese liner said it would phase-in four 1,200 teu ships to add another string – branded the CI7 – to its Asia-East India network with a rotation of Haiphong, Zhanjiang, Nansha, Cat Lai, Port Klang (North Port), Chennai, Visakhapatnam, Port Klang (North Port) and back to Haiphong.
The service is due to debut from Haiphong on 27 March and Wan Hai added: "The CI7 will provide clients with better transit time and more service options."
Transhipment via foreign hub ports – mainly Colombo, Singapore and Port Klang – had been the most sought-after "forceful" option for cargo interests on the Indian east coast. But this mode has become excessively challenging in recent months, given the poor mainline schedule reliability across intermediate ports.
At the same time for intra-Asia players, growing trade volumes between India and China appear to be a major factor driving their network expansion desire.  According to new data, two-way trade between India and China hit a new high last year, at $125.66bn, up 43% year on year.  Of this, India imported $97.5bn worth of goods from China, up 46%, and its exports to the PRC stood at $28.14bn, up 34%.
Other intra-Asia players, particularly Emirates Shipping Line, RCL, PIL and CU Lines, also become more active in Indian trades, with new connections out of Jawaharlal Nehru Port Trust (Nhava Sheva) and Mundra, eyeing growth opportunities as volume levels built up, due in some part to evolving global sourcing shifts towards South-east Asian markets.
For example, a five-vessel loop between India (JNPT), Vietnam, Thailand, Malaysia, and the Middle East started in late January.
Beyond securing additional ocean capacity, Indian exporters have another reason to cheer: China-origin containers are typically the main source of empties for the local market, and their lack is vexing shipment capacity more than ever amid soaring demand.