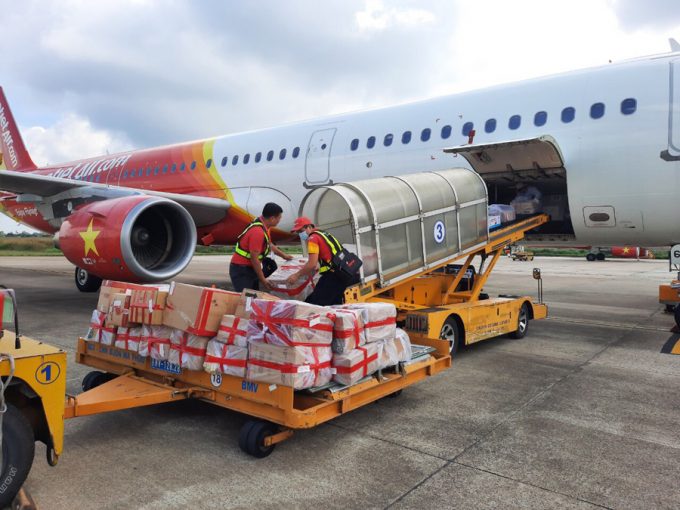 Vietjet has partnered with UPS for Asia-US airfreight operations, but the low-cost carrier has not given up on its long-standing ambition to have a freighter fleet.
The Vietnamese airline said the weekly service carried cargo including garments, seafood, and medical commodities collected from Bangkok, Kuala Lumpur and destinations across Vietnam.
Russell Reed, MD of UPS Vietnam and Thailand, said: "The agreement with Vietjet comes at a significant time for trade in Vietnam. The country is poised to benefit from shifts in global manufacturing and trade flows, and UPS, together with Vietjet, hope to expand import and export opportunities for businesses of all sizes, enabling them to trade with greater ease and confidence on a global scale."
Indeed, while Vietnam's borders have been open to trade during the Covid-crisis, they have been almost completely closed for international travel since late March. As a result, Vietjet posted a loss of $40m for the first nine-months of the year, with revenue down 64%.
Nevertheless, with well-established pre-Covid cargo operations, Vietjet became the first airline in the country to be approved to carry cargo in passenger cabins, and conducted 'preighter' flights between Vietnam and Japan, South Korea, China, Hong Kong, Thailand, Malaysia and Indonesia.
According to local media, the airline increased cargo volumes between April and August by 23%, to 19,872 tons.
Vietjet Cargo CEO Do Xuan Quang, said: "Vietjet has been one of the first airlines in Asia to navigate towards air cargo as part of a new business strategy in response to the global pandemic.
"The cooperation with UPS paves the way for Vietjet to make Hanoi, Ho Chi Minh City and Bangkok regional logistics hubs for one-stop shop cargo services from Asia to western destinations, as we further expand our domestic flight network in the countries and boost international services."
Last year, Mr Do told The Loadstar, was the "perfect time" for the carrier to get into the long-haul freighter business with a wet lease operation to the US, given the country's booming export market.
The executive set his sights on a freighter fleet around 2017, consistently banging the drum for domestic airlines to compete with foreign carriers for a piece of their 90% market share of exports.
Mr Do had faced a number of challenges trying to lease freighters, however, and now, with the pandemic and tie-up with UPS, will Vietjet's ambitions be put on hold again?
"No, freighter plans haven't been put on ice," a spokesman told The Loadstar. "We're still working on it and plan to launch in 2021."