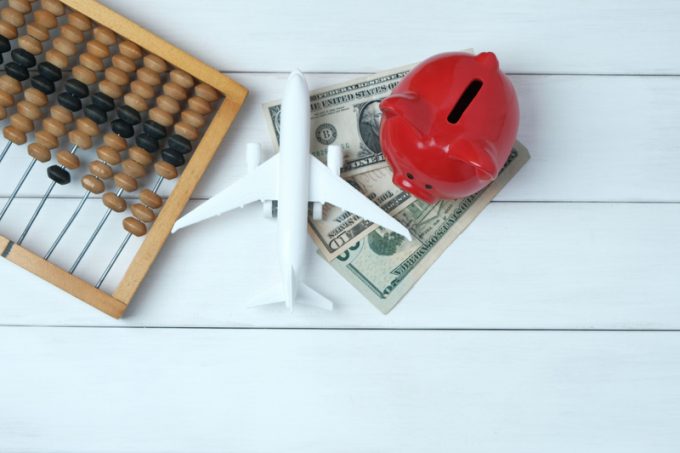 Airlines are counting on Covid-19 vaccine distribution to save them next year, according to IATA, but the industry should expect more carrier failures in the first half.
Revenues are expected next year to be about 50% of those in 2019, with losses across the industry of some $38bn, ahead of this year's forecast of $118bn losses.
Airlines are expecting a "vaccine boost in the second half, but it's going to be a challenging first half," said IATA chief economist Brian Pearce at a media briefing today.
The average airline, at the end of the first quarter this year, had sufficient cash reserves to last about 8.5 months – or until the end of the first quarter of 2021. But travel recovery, or the vaccine boost, will not help until the second half.
"That leaves a gap," said Mr Pearce. "There's a real risk that we could see airlines failing if we don't see some improvements.
"It is inevitable we will see a more consolidated industry."
Some 40 or 50 airlines have failed so far – "very few", given the circumstances, said Mr Pearce. "But the travel recovery will take several years, so some airlines won't be able to survive."
The recovery will also be regionally patchy. Asia Pacific airlines are already doing better and are expected to recover fastest.
"But North America is another region of note," he explained. "Before the crisis, North American airlines had an ebit double that of the closest-performing region. We think that will allow them to recover faster and be the second-best performing next year."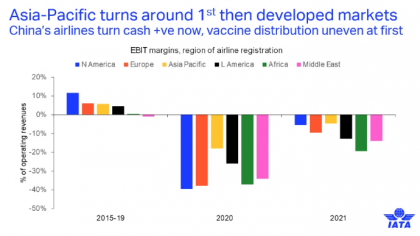 Passenger travel has become increasingly important to the cargo industry, in terms of capacity, but domestic or regional travel is expected to recover faster than international or long-haul travel, favouring smaller aircraft with less freight capacity.
Nevertheless, with cargo accounting for an increasing percentage of revenues, airlines are expected to do as much as possible to sustain freight capacity.
Cargo revenues this year have increased from $102.4bn to $117.7bn; a 24% fall in belly capacity pushed up yields by 30%. But volumes have fallen. IATA has forecasted uplift for 2020 at 54.2m tonnes, down from 61.3m last year. Next year should see volumes of about 61.2m, with a 5% increase in yields, giving cargo a historic revenue high of $139.8bn.
In 2019, cargo accounted for 12% of revenues and that is expected to grow to 36% in 2020 and be at 30% for 2021.
"Cargo is performing better than the passenger business, but could not, however, make up for the fall in passenger revenue," said Alexandre de Juniac, director general. "But it has become a significantly larger part of airline revenues and cargo income is making it possible for airlines to sustain their skeleton international networks."
IATA announced yesterday that Mr de Juniac – who is something of a cargo sceptic – has had enough and is leaving his role at IATA, to be replaced by former BA and IAG boss Willie Walsh.
Mr Walsh is seen as a safe pair of hands for the association, and has previously been chair of IATA's board of governors – but he has quite some job to do to ensure the survival of airlines next year.
The change is effective on 31 March, which means Mr de Juniac will have held the post for four and a half years. It marks more upheaval at the association, which has seen several executives take voluntary redundancy, while cutting other jobs.