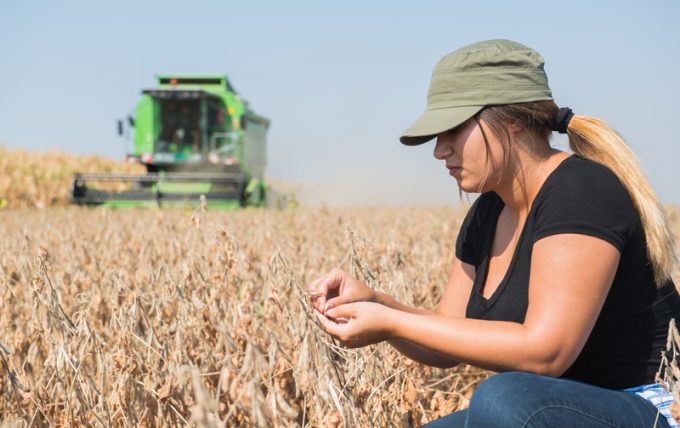 Illinois soybean farmers are enjoying a bumper crop this year, but are struggling to find buyers after their biggest market imploded.
Now they are looking to the container shipping sector to develop emerging markets for their crop.
In the fiscal year that ended 31 August 2017, Illinois produced a record harvest of 619m bushels of soybean, followed by a 690m bushel crop last year. However, finding customers for the larger crop was a lot harder as a result of rising economic tensions between the US and China.
About 60% of the US soybean crop is exported, and China has been the primary market, taking about 25% of overall production. The tariffs China implemented in the first round of the stand-off hit US farmers hard.
According to Scott Sigman, transport and export infrastructure lead at the Illinois Soybean Association (ISA), 36m tonnes were shipped to China between October 2016 and September 2017, but only 25.3m tonnes went that way in the following 12 months.
September 2018 saw the most precipitous slump, with China-bound exports plummeting a dizzying 97%.
The subsequent negotiations led to a number of larger orders from China, seen widely as tokens of goodwill and optimism that the conflict would be resolved soon. But the recent setbacks in the trade talks have stopped that momentum.
Moreover, China's demand for soybean imports flagged as a result of the African swine fever epidemic that is decimating the country's pig numbers.
Most soybean ends up as livestock feed, while, said Mr Sigman, soybean products for human consumption – chiefly tofu and edamame – account for a mere 5-10% of overall output.
And it is a growing segment. Soymeal production has grown 34%, Mr Sigman reported. However, in terms of the China market, this offers US farmers no relief, as soybean products – from tofu to soy-based oil – are subject to the same tariffs as the beans themselves.
Exports to other existing major markets have increased, however. Shipments to Mexico are up about 10% year on year, according to Mr Sigman, and traffic to the European Union has also seen a major boost, climbing about 34%.
But this growth cannot make up for the drop in China-bound traffic and exporters have continued to hunt for new markets. Egypt is one of the new destinations for Illinois soybean exports, Nigeria another. Even Iran has entered the picture under a food aid programme which is exempt from the US sanctions on the Middle Eastern country.
There is also heavy focus on a number of markets in Asia-Pacific, including Indonesia, Malaysia, Vietnam and the Philippines.
Mr Sigman is bullish on these markets, notably Indonesia.
"With time, investment and relationship building, there's good potential for further growth," he said.
To build up traffic to these markets, Mr Sigman and others look to container lines.
So far, containerised shipments account for a small share of soybean exports from the US. Mr Sigman said they make up 10-15% of the total.
Being generally cheaper than container lines, bulk carriers will remain the dominant option, Mr Sigman reckons, but he sees some advantages in containerised shipping. While bulk vessels carry thousands of tonnes, a container takes about 25 tonnes, which is more conducive to serving smaller or incipient markets.
Moreover, the ISA has spotted promise in the fact that a lot of containers now head empty out of US ports for repositioning. Citing a logistics report from The Wall Street Journal, it pointed to a 67.8% year-on-year increase in empties departing the ports of Seattle and Tacoma.
"By repositioning containers to backhaul with US soybeans, it helps alleviate a huge problem in global trade," a spokesperson for the ISA said. Occasionally carriers offer special pricing to move their empties back across the Pacific, Mr Sigman added.
And sometimes container shipping can be a less costly option, if a bulk vessel cannot find backhaul or triangulate to load up on the way back, he said.
Getting hold of containers should not be a serious issue for exports from Illinois, especially if the journey starts not far from Chicago, where substantial stock of containers is usually available, he said.
However, the inland-US leg is more expensive if soybeans go by rail to a container port on the coast than by barge to the mouth of the Mississippi for transloading to bulk vessels.
On the other hand, containers offer the possibility of keeping a particular batch of soybeans separate from crops from another location. Some importers have begun to ask for soybeans from particular fields, Mr Sigman reported. This is easier achieved with containerised shipments than in the bulk system, which tends to blend loads from across the market.
"I think quality control and product separation is an advantage in containerisation that is good for Illinois," he said, adding that average yields per acre in the state are significantly above the national average – the average US production is 45-48 bushels per acre, while for Illinois it is 64 bushels, with some farmers attaining 85 or more.
Shipping lines have expressed interest but are not exactly falling over each other to fill their empties with soybeans.
"These soybean containers load heavy," Mr Sigman noted. "To manage their load factors they're still interested to move some empties and some agri shipments."
For the ISA, containerisation holds a lot of promise.
"We see advantages for our members and their customers that make it beneficial to unitise close to origin," Mr Sigman said.
Above all, the ISA hopes that the trade dispute with its biggest market can be resolved soon. Washington's relief fund for farmers offers some respite, but they would "much prefer trade rather than aid", Mr Sigman said.