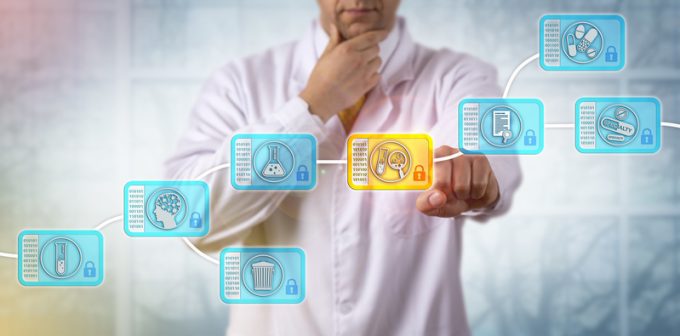 IBM and Walmart have been selected for a US government programme to develop a track and trace system for domestic pharmaceutical shipments using blockchain.  
Together with KPMG and Merck, they were chosen by the US Food and Drug Administration (FDA) to participate in the pilot, scheduled for completion in Q4.  
"Blockchain could provide an important approach to improve trust in the biopharmaceutical supply chain," said IBM global leader for blockchain in healthcare, Mark Treshock.  
"We believe this is an ideal use, because it can provide an audit trail that tracks drugs within the supply chain and track who shared data and with whom, without revealing the data itself.  
"Blockchain has the potential to transform how pharmaceutical data is controlled, managed, shared and acted upon throughout the life of a drug." 
The aim of the project is to develop an electronic, interoperable system that will identify and trace certain prescription drugs as they are distributed within the US. 
In a statement, the FDA noted IBM, KPMG and Walmart's "extensive" experience in implementing blockchain solutions to help enhance the safety and traceability of products. 
Last year, IBM and Maersk launched TradeLens, a blockchain platform providing a single shared view of a transaction without compromising details or confidentiality. Initially, the platform struggled, with other carriers less than keen to use a system run by a key competitor, but in recent months the number of members has steadily climbed.  
CMA CGM and MSC signed on last month, to the delight of Michelle Eggers, director global logistics purchases at Procter & Gamble, which ships "significant" volumes by sea.  
"Whether filled with our products or materials used in production, understanding the status of our containers helps us manage an efficient supply chain," said Ms Eggers. "We're convinced industry will benefit from the transparency and accuracy of blockchain solutions and we are pleased to see MSC and CMA CGM on the TradeLens platform." 
Commenting on the FDA-led pilot, senior vice president supply chain at Merck Craig Kennedy said reliable, verifiable supply helped improve confidence among stakeholders.  
However, a report from Gartner Research suggests blockchain has fallen short of its potential so far, with some 90% of supply chain blockchain projects remaining proof-of-concept. And, despite its vast size, the pharmaceutical market is coming up against its own headwinds, with pricing pressures being a core concern for pharmaceutical chiefs.  
Furthermore, while the US is the largest market, expectations are that by 2021, growth will have slown into single digits, to between 6% and 9%, compared with 12% in 2015. 
That same report says that, despite the lull, industry will be "challenged" and expected to find new ways to keep growing. Efficiencies from blockchain use may support this effort.  
However, it appears DHL Supply Chain is not too fussed by the concerns, with president of Life Sciences Scott Cubbler announcing a $150m investment over the year.  He said: "This will allow DHL Supply Chain to continue to deepen the connections between our customers and the patients they serve."  
The money will be used to expand its US footprint by 40%, to 30 pharmaceutical and medical device distribution hubs, including new sites in Indianapolis, Pennsylvania, and Tennessee.  The sites are fully licensed with temperature-controlled space and will also allow for packaging and managed transport for integrated solutions.  
"This most recent expansion also helps us leverage differentiated routes to market, driving greater efficiency and productivity across the supply chain," added Mr Cubbler.  
"With this expansion, DHL Supply Chain will have a total of 30 sites designed to support pharmaceutical, biotech, and medical device companies."