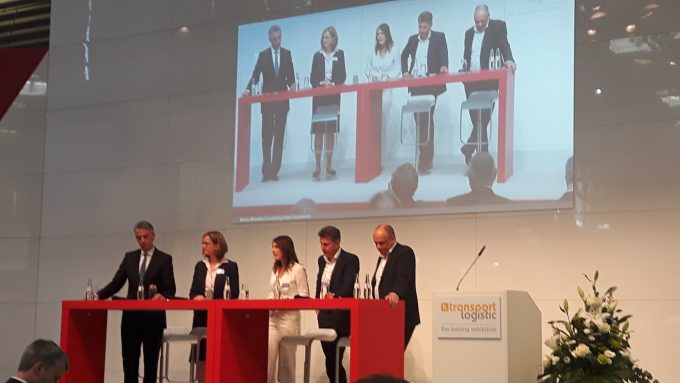 Germany is attempting to define itself as the world's leading logistics country, as Transport Logistic in Munich kicked off this morning.
An impassioned speech by the Federal Minister of transport and digital infrastructure, Andreas Scheuer, launched the proceedings, calling for Germany to be "a little bit better" than other countries, with the environment and innovation at the heart of its thinking.
He said intelligent infrastructure was key to Germany's Innovation Programme 2030, which would see a move from road to rail and water-borne freight.
"Tomorrow's harbours will look different from today's" he predicted. "We want climate neutrality … and strength in digitisation. We have to think differently.
"We want to be the logistics location of the future for all modes of transport." He urged attendees not to "remain silent" about the benefits of Germany.
Unfortunately, however, other countries are not necessarily playing ball for the logistics industry. Frank Appel, chief of Deutsche Post, said the recent implementation of trade tariffs had made the market "very difficult to assess".
"The escalation of tension between China and the US … could lead to a downturn eventually," he warned. "The current US-China relations are certainly not beneficial. They are raising the stakes. The challenge is to see where this is going, what is the reaction to the US and China's actions."
Air cargo, which is seeing very soft demand, is "an early indicator" added Rolf Habben Jansen, chief executive of Hapag-Lloyd, who added that there were some "dark clouds on the horizon".
Many parts of the business remain good however, with Alexander Doll, chief finance officer for Deutsche Bahn, noting that the intra-EU market was strong. Dr Appel added that since DHL had made "major adjustments" to its parcel division, having folded its struggling PeP division, "it was working quite well".
He dismissed suggestions that Amazon and Alibaba would eat into DHL's space, claiming that DHL was the leader, not the follower.
"We believe that in this sector, Amazon and Alibaba will have to deliver the best quality – and we do that already across countries. We don't want to disrupt our business model by doing something fundamentally different. Our competitors are copying us."
He ruled out any consolidation involving Deutsche Post, saying it would continue with organic growth, and added that there was unlikely to be any sort of consolidation between the big three of FedEx, UPS and DHL.
"We focus on organic growth, but there may be further consolidation in the parcel business – but not with our participation."
Hapag-Lloyd's Mr Jansen did not, however, rule out merger talk. Noting the line's acquisitions over the past five years, he said: "We have consolidated our position. We are not hunted right now, but admittedly some people are knocking at our doors about cooperation – not just big business but smaller companies, which could be interesting."
The Munich event is on until Friday, with 2,279 exhibitors from 64 countries participating, and upwards of 60,000 visitors expected.