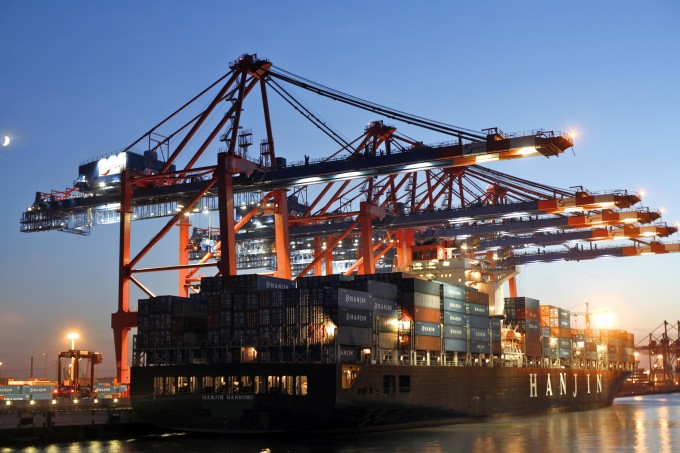 Container spot rates between Asia and North Europe and the Mediterranean tumbled again this week, suggesting that talk of a truce in the carrier rate war was premature.
The Shanghai Containerized Freight Index (SCFI) recorded a fall of 17.8% for rates to North Europe, which were down by $117 to $540 per teu.
For Mediterranean ports, the SCFI declined 16.2%, down $128 per teu to $660.
With capacity cut right back and ships sailing to Europe full, there seems to be a complete absence of logic to explain the further drop in spot rates, which one analyst had expected would remain above $700 per teu until after the peak season.
However, one UK-based carrier source told The Loadstar this week that the blame for the rate erosion between Asia and Europe is being put at the door of the financially troubled South Korean carriers.
He said the media speculation that one, or both, of the Korean carriers could eventually end up in receivership meant that the two lines were struggling to hold onto cargo bookings as increasingly nervous shippers opted for 'safe harbour' options with other carriers.
As a result, they are having to 'incentivise' loyalty, and are attacking other carriers' business to replace volumes they have lost business, said the source.
"The Koreans have been very aggressive in the market in the past few weeks, which has driven spot rates down," he said.
Nevertheless, seemingly unperturbed by this side show, several Asia-Europe carriers have announced substantial general rate increases from 1 July to coincide with the traditional commencement of the peak season.
The most recent Asia-Europe GRI received by The Loadstar came in today from OOCL: a "rate restoration programme" to North Europe, the Mediterranean and the Black Sea of $1,100 per teu.
Elsewhere, Maersk Line has followed the lead of Hapag-Lloyd in dispensing with the GRI strategy on the Asia-Europe trade.
In its latest Weekly Highlights release, the Danish carrier announced an increased FAK (freight all kinds) rate for North Europe of $1,450 per teu and $2,700 per 40ft, with a 40ft high-cube at $2,750, effective 1 July. For Mediterranean, Adriatic, Black Sea and North African ports, Maersk's FAK rates will be $1,650 per tea and $2,700 per 40ft or high-cube.
Whatever the strategy adopted by carriers, Asia-Europe container lines know they must use the peak season window to push spot rates up significantly to bolster annual earnings.
Moreover, they cannot afford to see their contract rates on the trade, which this year are reported to be some 30% below 2015, further depressed by the influence of a lowly spot market.