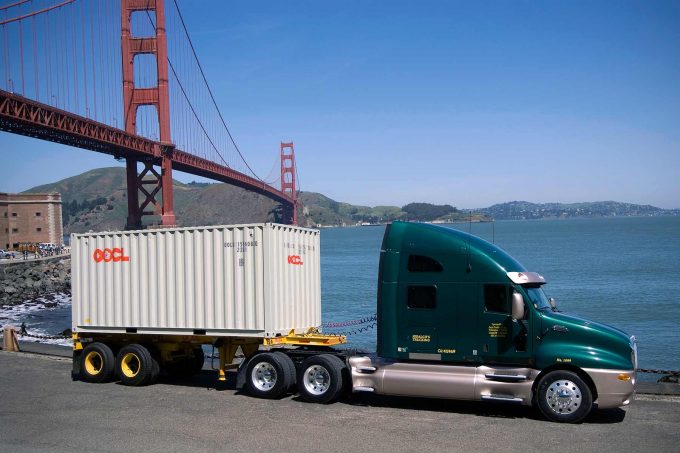 The transpacific container shipping market is set for a fundamental change if Cosco completes its acquisition of OOCL, according to new research from Alphaliner.
The combination of the state-owned Chinese giant – created by last year's merger of China Shipping and Cosco – and Hong Kong-based OOCL would create the world's third-largest carrier, with a combined fleet of 2.4m teu, based on Alphaliner records.
The 666,140 teu currently operated by OOCL would be added to Cosco Shipping's fleet of 1,752,800 teu, alongside a combined orderbook of 600,000 teu.
While its global market share will jump up to 11.5%, overtaking CMA CGM's 11.1%, in terms of capacity operated, the new entity would also become the largest carrier on the transpacific trade, in terms of teu volumes.
Alphaliner estimates – from volume data recorded by the Journal of Commerce and its research arm, PIERS, from May and June this year – that Cosco's current market share of 11.2% on the transpacific added to OOCL's share of 6.9% will create a new market leader with an 18.1% share.
According to JoC-PIERS, the combined liftings of the two carriers in May and June was around 450,000 teu, almost 100,000 teu more than CMA CGM, which has held a 14.3% market share since its acquisition of APL last year.
And the merger of Japanese carriers NYL, MOL and K Line, creating the Ocean Network Express (ONE) container line, will push CMA CGM into third place, Alphaliner estimates.
In May and June, the combined carryings of the prospective ONE partners amounted to just over 400,000 teu, giving the new firm a probable 16.5% transpacific market share.
These new market shares are unlikely to trouble regulators, Alphaliner suggested.
"Despite their significant combined transpacific market share, the merger of Cosco and OOCL is not expected to face any major objections from anti-trust regulators in the US, as the market remains highly competitive: No individual carrier will command more than 20% of overall market volumes," it said.
Some of this is largely academic, of course, as Cosco, OOCL and CMA CGM are all partners in the Ocean Alliance – along with Taiwanese carrier Evergreen – which is already the leading consortium on the trade.
And this position is expected to be further cemented by plans to create the largest-capacity Asia-US east coast service through the Panama Canal. CMA CGM revealed that this summer its will phase its 14,400 teu CMA CGM T Roosevelt and CMA CGM J Adams newbuildings into the alliance's AWE5/SAX/ECX1/AW5 service.
They will replace two 11,300 teu vessels, Alphaliner says, giving the service "the distinction of being the first service in the trade that exclusively deploys tonnage of 13,000 teu or more". While a 13,000 teu capacity had been considered the "maxi-neo-panamax" standard, CAM CGM's design configurations mean absolute capacity has been increased.
"The vessels have a length of 366 metres and a breadth of 48.2 metres (19 deck rows), which corresponds to the dimensions of standard maxi-neo-panamaxes rated at just over 13,000 teu. Their increased capacity is achieved thanks to a fuller hull shape, allowed by a lower speed, and by an optimised deck cargo configuration," Alphaliner explained.