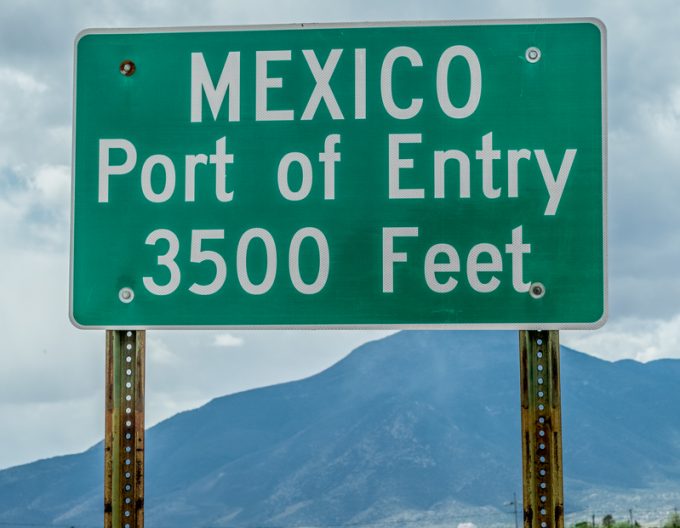 As development schemes go, the SkyBridge Arizona plan is ambitious, soaring as much on hopes from high-up, as on recent growth in traffic flows.
SkyBridge has the support of the Arizona state government, which has welcomed the prospect of 17,000 jobs generated by an 800,000 sq ft air cargo complex that should spawn light industrial and other commercial activities in its wake, on a 360-acre site.
The $230m scheme is based on the imminent establishment of a joint US-Mexican customs facility at Phoenix-Mesa Airport to expedite customs clearance, the first of its kind, according to SkyBridge. The venture's management expects this to produce lively cargo activity that could grow to as many as 10,000 annual flights by 2036.
Currently, Phoenix-Mesa has some passenger services by low-cost carrier Allegiant Air.
The projections have raised some eyebrows.
"You've got to have lift to places where the cargo is going. Otherwise people may just as well truck to Los Angeles," said Ray Brimble, CEO of aviation property developer Lynxs.
He recalled efforts elsewhere to establish an air cargo gateway by building up charters that did not succeed: "You need scheduled service," he said.
The concept of a joint US-Mexican customs installation has also found resonance in Southern California.
In September, US Customs and Border Protection announced it was looking to establish a pilot programme at Otay Mesa, south of San Diego, for companies that are listed in the Free And Secure Trade clearance programme for low-risk shipments entering the US from its NAFTA neighbours.
Supporters of these plans point to strong growth in traffic across the US-Mexico border. According to SkyBridge, airfreight volumes between Arizona and Mexico grew 30% a year between 2011 and 2015, faster than any other mode of transport.
And rhetoric emanating from the White House has not dented this momentum. Operators reported that business had increased last year and shows no signs of slowing down.
"In December we did as much per day as we would in an average week out of LA. The airport was backed up," said Mike Gamel, chairman and head of sales & marketing of Mexpress, which runs trucks between US and Mexican airports.
"We haven't seen a slowdown at all. I'm surprised by the amount of enquiries and quotes we're getting."
Northbound flows have been particularly strong. Traditionally, southbound traffic was larger, but this changed over the last two years, Mr Gamel said.
Automotive traffic makes up the largest chunk of this traffic. Mexico is now the seventh-largest car producer on the planet, and about 80% of its production is destined for the US market, according to Drewry.
Intercontinental flows have also maintained their upward momentum. Shawn McWhorter, president for the Americas at Nippon Cargo Airlines, said demand out of Mexico had remained strong. NCA serves the market chiefly out of Dallas/Fort Worth.
Gunnar Löhr, head of region South America at Lufthansa Cargo, added: "Mexico has seen a lot of growth in capacity."
One of the more recent entrants was CargoLogicAir, which started operations last summer with twice-weekly 747-400F flights from its London Stansted base via Atlanta to Mexico City.
Mexpress expanded its RFS activities last year with service to Philadelphia and Oakland. Previously all its trucks served either Los Angeles or Dallas/Ft Worth.
In Mexico the company runs an LTL service to four major airports and full truck service to ten other airports. Some of these, like Leon or Aguas Caliente, lack facilities to handle air cargo, so the alternative for shippers and forwarders would be to truck their freight to Mexico City or Guadalajara, Mr Gamel said.
His company's success is a reflection of the bureaucratic hurdles that still bog down cross-border traffic. Mexpress has special dispensation to truck cargo in bond across the border, which allows it to perform clearance at the airports, avoiding the lengthy delays at the frontier. It offers transit times of 48 hours from Los Angeles to Guadalajara and from Dallas/Fort Worth to Mexico City, which is faster than flying cargo to the Mexican capital's notoriously congested and slow airport, according to Mr Gamel.
If the US administration were to tear up the NAFTA treaty, the hurdles would be yet more formidable, logistics firms as well as executives from other industries, such as the US Fashion Industry Association, have warned.
Mr Gamel is optimistic that NAFTA will remain in place, arguing that too much is at stake for US businesses.
The agreement has been a massive boost to trade flows between the two countries. In 2016, goods worth $294.2bn moved from Mexico into the US, up 637% from 1993, the year before NAFTA came into existence. In the opposite direction, traffic grew 445% to reach $231bn last year.
Still, there are indications that some people are eyeing a plan B. This month, Chrysler announced a $2.5bn investment in Warren, Michigan, where it intends to shift some pick-up truck production from Mexico.
The Mexican government has recently stepped up talks with the European Union about further facilitation of trade as well as aviation.
The SkyBridge Arizona enterprise and its supporters' development horizon is comfortably beyond the duration of the incumbent US government. The build-out plan for the project extends to 2036.
But at this point, Phoenix-Mesa is not equipped to handle trucks.
"They don't have a truck dock at the airport. They need to build that first," advised Mr Gamel.