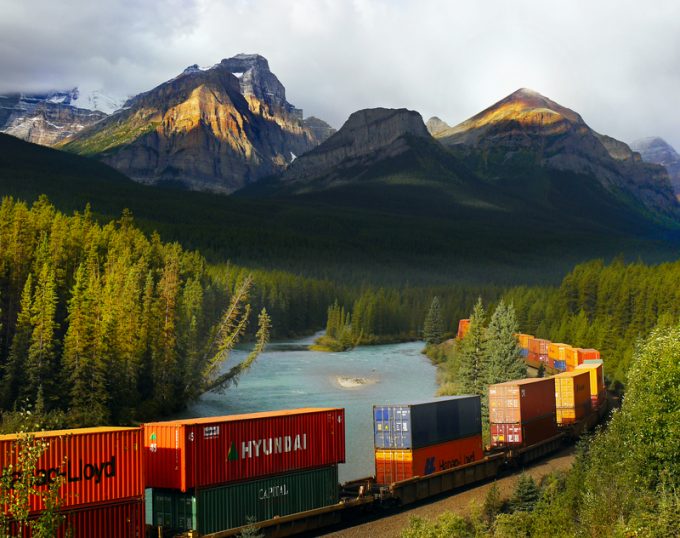 North American railroads saw mixed fortunes in the first three months of the year – but for two, the view down the line is less hazy.
Union Pacific (UP) recorded a 3% upturn in revenues for its intermodal product, Premium, in the first quarter, generating a little over $1.55bn.
Volumes were up 2% year on year, largely thanks to a double-digit bounce in international business, while domestic volumes were down 5%.
During an investors' call, executive VP for marketing and sales Kenny Rocker said he expected the growth in international business to "normalise" to seasonal levels and was cautious about the domestic outlook.
"For Premium, domestic intermodal volumes could be impacted by a softer truck market, which may limit the opportunities for over-to-road truck conversion," she added. "However, longer-term fundamentals still provide a bullish outlook for over-the-road conversions."
Canadian Pacific (CP) also recorded a similar upturn in first-quarter revenues, up 4% to C$380m (US$284m), despite a 2% dip in volumes – and, similarly, driven by strong growth in international business.
Executive vice president for marketing and sales John Brooke said CP had been helped by reduced congestion at Vancouver, and added: "This momentum has carried into the second quarter with intermodal volumes up 15% to date.
"So, despite the operating challenges, the CP team worked tirelessly in Vancouver with customers and terminals to drive down dwell time at the port."
Meanwhile, for Kansas City Southern (KCS), the first three months of the year saw revenue grow 6%, while adjusted operating ratio improved by 160 basis points and adjusted earnings per share by 18%.
This came despite a volume decline of 1%.
Chief marketing officer Mike Naatz said the drop in volume was primarily down to teacher protests in the Mexican state of Michoacán which  resulted int he company being unable to move trains over a portion of its network during the protests.
However, Mr Naatz added, "on the plus side" KCS's intermodal cross-border franchise volumes were up 5%, driven by truck-to-rail conversions.
Chief operating officer Jeff Songer told investors the company was looking to increase capacity of individual services.
"We believe we have significant opportunity increasing the size of our intermodal trains and are targeting a 10% increase in the total combined length of these trains," he said. "As we identify additional opportunities for train consolidation, we will modify our targeted train length accordingly."
Earlier this month, The Loadstar reported that rival rail operator CSX had also struggled to gain traction at the start of the year, recording a 5% dip in revenue.