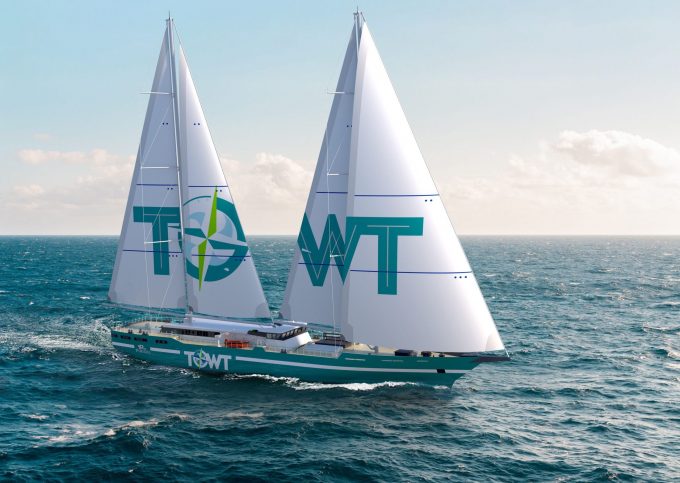 French operator TOWT is becoming a shipowner and operator, with plans to grow a fleet of cargo schooners, with two already on order.
The vessels can each carry around 1,100 tonnes of breakbulk cargo, the equivalent of around 100 containers, at speeds of 10 knots.
Though the vessels will not be free of conventional propulsion, the majority of energy will be provided by the wind, said to entail a 90% emissions reduction.
TOWT has benefited from investment from major shipping lines, as well as crowdfunding by some 2,100 retail investors on platform LITA, who contributed around €4.5m ($4.15m) this year.
TOWT CEO Guillaume Le Grand told The Loadstar his company has had 11 years to figure out how to make the economics work.
"If we hadn't been able to improve on the conventional sailing vessel value offering, we would… be living a beautiful life, but not actually making an impact," he said. "Our customers are willing to accept a slight premium. They are not only willing to pay for PR reasons, but also for quality, because you are better able to vent and air the hold.
"The more ships you have the more often you can provide the service, and for them, it's not necessarily about having a massive ship departing every so often, but a weekly departure."
The reduction in CO2 emissions is the obvious draw – "a couple of hundred litres" of fuel per day versus "thousands of tonnes" for conventional shipping – however, the vessels have operational advantages, as well, said Mr Le Grand.
"We are able to sail into shallower terminals… and one in five ships at the moment is anchored outside a congested port, waiting in a queue. We can go into terminals that are six metres deep."
As well as the two vessels on order, TOWT has plans to add "at least a couple more, five, six, seven".
On chartering the vessels to other shipping lines, Mr Le Grand said: "It's possible; I would not say likely, but it's possible. We need to have these capabilities in place, training the crew, renewing certificates, securing contracts."
The two new vessels will be deployed on Atlantic crossings, which is considered the de-rigeur route for wind-assisted ships. Mr Le Grand said: "Open sea is where the winds are abundant and predictable. Going in and out of the Channel, Stockholm-Hamburg, Rotterdam-Tilbury… we would have to use the engine more, and we would suffer from stormy weather, [it would] be less predictable.
"We know there is cargo out there, but at the moment we are just launching the two first vessels. We want to build for the big game, New York, Central America, Caribbean, Western Africa – probably Asia, via Panama. It's less risky, and we have committed cargo owners.
Meanwhile in other wind propulsion news, Hyundai's  Hi-Rotor sail has garnered approval in principle from the Korean Register. The design "improves the stability of the drive system, compared with the belt method of existing commercial products, by applying the reduction gear method to the driving part connecting the electric motor and the rotor," Hyundai said.