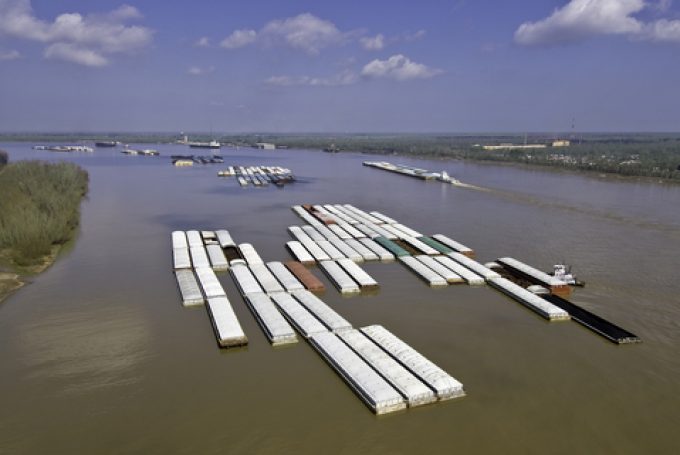 Shipping on the Mississippi river was moving again on Monday after it re-opened, but the worries for operators and shippers are not over.
The river had been closed for traffic in two sections, and more closures are likely as water levels are expected to sink to near-record lows.
Persistent drought resulted in at least eight groundings of barges last week, despite loading and draught restrictions, which prompted the closure and left more than 2,000 barges stranded along the Mississippi by Friday.
The situation forced barge operators to stop taking orders for immediate delivery, and Ingram Barge, the largest US operator, declared force majeure.
And the closure could hardly have come at a worse time, as grain and soybean shipping is in full swing. As a result of the disruption, several grain terminals had to temporarily shut down.
This left shippers scrambling for alternative transport , which meant a roughly fivefold increase in cost – and it didn't help that rail and trucking capacity have been constrained.
Moreover, a wholesale shift of cargo from the river to truck and rail would exceed capacity on the land transport modes. One hopper barge can carry the equivalent of 16 rail cars or 70 trucks of dry cargo.
Carbon emissions-wise, according to searoutes.com, one teu emits 0.33t on rail, and 0.71 on barges from New Orleans to St Paul, Minnesota.
Volumes of freight on the river are huge. In 2020, about $70bn-worth of cargo moved on the river between Minneapolis and the delta. According to the US Army Corps of Engineers, about 589m tons of cargo are shipped on the Mississippi a year.
About 92% of US agriculture exports originate in the river basin and soy bean traffic alone on the Mississippi was in excess of 65m tons in 2019.
In 2012. drought forced closure of the river on three occasions, which resulted in $35bn losses for the US economy.
Even after dredging operations to deepen the shipping channel at afflicted areas, restrictions remain in place. Traffic is limited to one-way flows and barge operators face restrictions on draught as well as on the number of barges that can be towed by a single vessel. Therefore, barges have been loaded well short of capacity, and this is not likely to change this month.
Weather forecasts are for too little rain to improve shipping conditions and indicates that the river will likely be approaching record low water levels in some areas. According to the US Corps of Engineers, water levels on the river are about 50% down from usual October levels.
A serious disruption of US grain and soybean exports would aggravate the tight supply situation in global food markets, raising the spectre of further food inflation.
Wheat futures surged to a three-month high on Monday, after reports of Russian missile attacks on Ukrainian cities, including the vital port of Odessa. Prices of other grains increased as well. Moreover, Ukrainian grain exports are hampered by vessel backlogs.