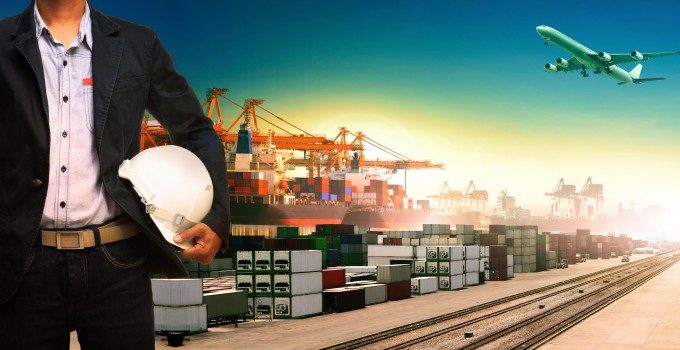 Despite an estimated 40% decline in sea-air shipments over the UAE, David Phillips, president of Dubai's National Association Freight & Logistics, believes the hybrid product can play an important role in future supply chains.
While exact tonnages are notoriously difficult to calculate, Mr Phillips told the Freighters and Belly Cargo conference in Abu Dhabi the market was around 2,500 to 3,000 tonnes a month, but had "come off its previous heights".
He attributed this to the current market downturn, the emergence of more sea-air hubs and the growth of rival modes such as intercontinental rail freight services.
Sea-air transport has a history going back more than 30 years in the UAE, beginning when Indian garment manufacturers became frustrated at port congestion in Mumbai.
"It worked because we were a predominantly import-based economy, so carriers had a lot of belly space going back out," Mr Phillips said.
Shippers found they could make up for lost time by using sea freight to Fujairah, transhipping to Dubai and then flying to their final destination. If a vessel arrived in port on a Friday evening – or even if it was delayed a few hours – the goods could still reach the customer's warehouse in the US or Europe by Monday morning.
Key to sea-air's initial success was the proactive approach taken by Dubai Customs, which had "the will to make it happen", Mr Phillips said. "People think hard infrastructure has to be put in place first. But policy has to come before infrastructure, which Dubai didn't have in the 1970s."
Slow-steaming by the shipping lines in a time of high fuel prices kept interest in sea-air alive, but volumes are down. "Demand in Europe is soft and China won't manufacture goods if nobody's buying them," he added.
In a weak market, some Far East sea-air shippers now preferred Singapore to Dubai as a sea-air hub because the maritime leg was shorter and airlines were offering good bellyhold rates out of there, Mr Phillips said. "Other hubs have exploited the opportunity and will replicate what we do.
"We have to understand customers' sensitivity to cost. Dubai is not a cheap place to operate, and if we can't find the right balance, other hubs will," he said.
Ships could speed up again in a lower fuel cost environment, although plagued with so much overcapacity, he observed that container lines were still sailing slowly "or not operating services they have advertised".
Direct train services from China to Western Europe, now operating three times a day, also represent a potential threat to the sea-air model, though Mr Phillips said the rapid network growth of Emirates and Etihad was countering this trend.
"Whenever they fly to a new destination in a landlocked African country, they open a new sea-air route," he argued. A shipping container unloaded at Mombasa can still take 15 days to reach Kigali, Rwanda – or the cargo could fly via Dubai instead.
Dubai's forwarders have lobbied successfully for priority unloading at ports for airbound cargo, as well as streamlined handling at the airport. Mr Phillips told The Loadstar the National Association Freight & Logistics could take some credit for eliminating double inspections.
"If the airport police can tell Customs the box was sealed, there is no need for a second inspection, and they are beginning to exchange this data electronically," he said.
Sea cargo unloaded at Jebel Ali can reach Dubai South – the new development around Al Maktoum International Airport – in just a few hours.
"It's not just apparel and shoes, but anything that needs to reach customers fast – even some pharma products," Mr Phillips said. Warehouses catering exclusively for India-manufactured drugs were now being built at Dubai South.
However, he called for more joined-up thinking between the individual emirates, commenting that a box arriving by sea in Abu Dhabi could not yet move seamlessly out of Dubai Airport, or vice versa.