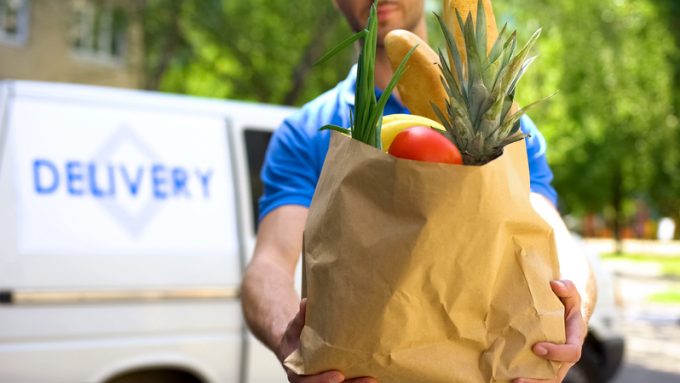 Home deliveries remain a headache for the grocery sector: Walmart has lost yet another final-mile provider, as Skipcart joins the lengthening list of firms that have thrown in the towel after trying to make money by delivering groceries for the giant retailer.
Skipcart chief executive Ben Jones said his company had handled more than 50,000 deliveries a month for the retailer, but was losing money "hand over fist".
He now believes delivering groceries is a failed concept.
"It doesn't work today, and it's not going to work six months from now," he said.
A number of logistics firms have abandoned their efforts to provide home deliveries for Walmart: Uber and Lyft gave up in 2018; and a year ago Walmart and Deliv agreed to abort their joint efforts for a same-day service.
Cathy Morrow Roberson, founder and head analyst of research and consulting firm Logistics Trends & Insights, said Walmart had been using a patchwork of final-mile providers, including the likes of Postmates, DoorDash and Roadie, as well as self-employed drivers that can use the retailer's internal delivery platform.
All the companies that have parted ways with Walmart said they couldn't make money, Ms Roberson noted.
"How can you make money in a business based on very low labour cost?" she asked. "I don't think crowd-sourced delivery works unless you're in a confined urban region."
Then it works because of the density of the delivery points, she added, but driving further afield into suburbs and beyond rapidly drives up costs beyond the notoriously thin margins of the grocery business.
UPS and FedEx have addressed this final-mile issue with delivery area surcharges and have beefed up their volumes in residential deliveries, while losing traffic to the US Postal Service, she added.
"I think Walmart needs to go back and reconfigure its delivery network," she suggested.
The loss of Skipcart is not the only recent setback for Walmart. In November, its Jet subsidiary announced it was ending its fresh food delivery activities in New York City after just one year. Reportedly, the service struggled from the start.
These headwinds are hurting Walmart at a challenging time. It is facing pressure from Amazon, which has aggressively ramped-up its grocery home delivery activities and now offers free delivery to Amazon Prime customers within two hours in more than 2,000 US cities.
Ms Roberson sees the advantage in home deliveries on Amazon's side, "because Walmart hasn't figured out its last-mile delivery".
Unlike most of its rivals, Amazon can subsidise its e-commerce and delivery activities from its cloud computing revenue. Its numbers are too opaque to establish whether or not it is doing so, but many observers suspect this is the case.
Meanwhile, Amazon does have some issues with final-mile. Last month it cut ties with three final-mile providers, citing issues with safety and performance, which followed similar moves last autumn, and more cuts are apparently on the horizon. According to one recent report, more than 3,000 drivers currently delivering parcels for Amazon stand to lose their jobs in the coming months as the e-commerce giant cuts more contracts.
Expect more turbulence in the grocery delivery sector.