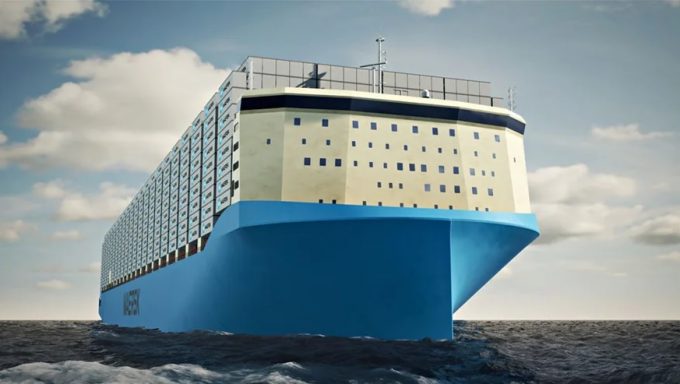 Maritime veterans do not appear to think much of Maersk's new methanol vessel design, saying the forward-situated superstructure will cause a host of problems.
Ex-ship's captain Arjun Vikram-Singh, currently CEO of Quantum BSO, said: "Thank God I'm ashore," and called the new design a "monster".
He added: "I hate to think of the poor souls who will sail on these ships. I wonder if any thought has been given to their comfort, let alone 'small' aspects of bridge management."
Mr Vikram-Singh took issue with the design's lack of wings on the bridge, which with the container stacks makes rear visibility minimal, and the wind shear on the vessel with its high sides and little way for the wind to blow through the ship.
"Imagine living right on the forecastle, then imagine a head sea, the pitching, and pounding," he wrote. "Imagine the sound and the impact of spray and waves when the bow addresses a big swell. Imagine the terror when the engines thrust into the sea and the bow struggles to rise. But hey, these are only seafarers – who cares."
The former captain added that with the master perched at the very front of the 350-metre vessel, manoeuvring would prove extremely difficult.
"Better men will sail this ship, and I salute them. I would not. Not even for a lot of money," said Mr. Vikram-Singh.
Michael Grey, a seafarer for 12 years and an industry veteran, technical consultant and lecturer, joked: "My main beef is that they're using the crew as a breakwater," and also called attention to the distance between the bridge and the engine room.
"When the alarms go off, they've probably got the best part of a quarter-mile to run."
Maersk has pre-empted some of these misgivings, stating that the bridge would feature improved crew comfort. And in a recent Loadstar interview, Ole Graa Jakobsen, head of fleet technology, explained that Maersk had performed simulations which, it believed replicated the sensations and accelerations the crew would likely face, showing them to be "within tolerable limits", akin to "what would be experienced in a smaller vessel".
Mr Grey pointed out that there were already a lot of very large ships with the superstructure right on the bow – heavylift vessels and offshore boats, for example. However, he pointed out: "When you're turning, you're really going to be whipping around.
"You get these tremendous accelerations. The ship is very much harder to handle if you're at either end of it. The crew always comes last."