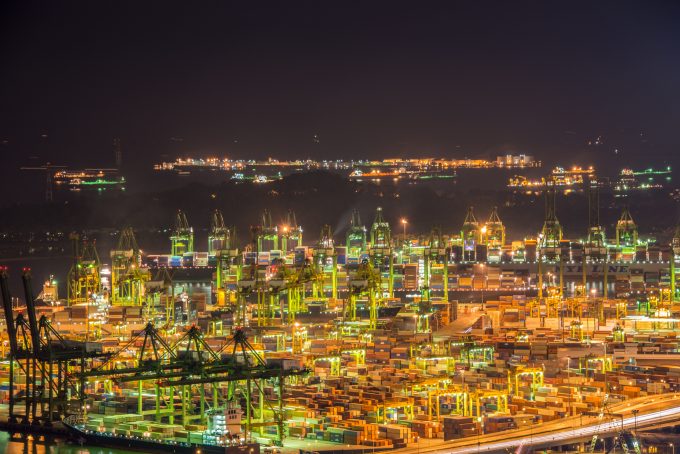 Supply chain disruption through the pandemic and war in Ukraine have cost the ten Association of Southeast Asian Nations (ASEAN) economies an estimated $17bn a year, according to the latest research.
Formed in the late 1960s, ASEAN's aims include promoting economic development and cooperation between what were emerging economies and are today said to be among the fastest-growing in the world.
Research carried by the Economic Research Institute, established to mirror the OECD, found ASEAN's larger economies, including Singapore, Thailand and Malaysia, had seen the worst negative effects from these global shocks.
Supply chain consultancy TMX Global said combined ASEAN GDP was $3.62tn last year and, in spite of the hit to the regional economies, ASEAN countries were continuing to grow.
"Driven by exports and domestic demand, ASEAN's GDP is forecast to more than quadruple over the next two decades, increasing to $13.3 trillion by 2045," said Dean Jones, TNX's director of the Asia region.
He added that China's relaxation of covid regulations in December had been welcomed by companies still manufacturing out of Asia, alleviating global supply chain pressures. However, the recent disruptions have pushed companies to consider ASEAN's role "when anticipating future volatilities in global supply chains".
That had led to a 'China Plus One' strategy, diversifying certain aspects of their operations, such as production centres and warehouses, outside China, he said.
"South-east Asia has been emerging for some time as the natural next stop for manufacturing reliant on low labour costs," he said. "As manufacturing cost remains around 50%-60% lower than in China, the region is popping up as a viable alternative for a lot of companies.
"Furthermore, many countries are positioning themselves as Plus One options, with incentives and grants, each of these markets demonstrating its own strengths," Mr Jones told The Loadstar.
For example, Vietnam, which specialises in apparel, footwear and electronics, has the lowest regional costs, except for Myanmar and Cambodia, according to TMX's Cost of Doing Business In Asia report.
He said: "As a result, Apple has already moved some iPhone manufacturing to Vietnam and is planning to move some of its MacBook production there as well. Other companies that have made the transition include Nike, Adidas, and Samsung."
According to TMX, Thailand and India, the latter not ASEAN-affiliated, are seeing an influx of companies creating regional manufacturing hubs to ease their reliance on a single supply chain, particularly during periods of high demand, shifting their logistics design from just-in-time to just-in-case strategies to help maintain inventories and supply lines.
"Businesses will look to keep inventory and supply chain networks closer to their end customers to be insured against the factors at play in global trade," said Mr Jones. "There is no better time than now for businesses and leaders to re-evaluate changes to inventory systems. The earlier improvements are made, the higher the chances of the business becoming more resilient and effective in the long-term."
A survey conducted by Ti Insights of 750 industry professionals for the 2023 Agility Emerging Markets Logistics Index, corroborates the TMX view. Agility vice chairman Tarek Sultan said: "Carriers and shippers are feeling the effects of higher energy prices, tight labour markets and broader inflation, even though freight rates have fallen and ports have cleared cargo backlogs."
According to the survey, only 11% of respondents said manufacturing in China was now the same as in the pre-pandemic period. Moreover, 90% said their logistics costs remained higher than in 2020, fuelled by energy costs and tight labour markets.