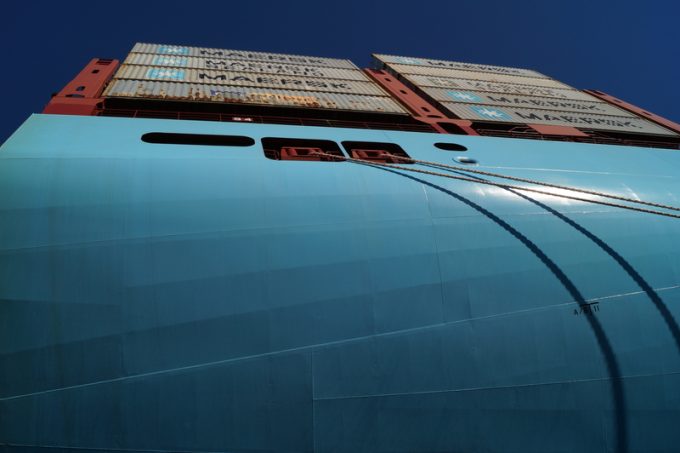 Maersk achieved a new record net profit, of $5.5bn, for the third quarter – a figure also higher than its best-ever annual profit.
Revenue soared 68% year on year, to $16.6bn, driven by an 84% increase, to $13.1bn, in its liner business.
However, total liftings were flat, at 6.5m teu, with east-west volumes actually contracting, due to the impact of port congestion, which Maersk said was effectively idling around 10% of its fleet, particularly at the container hubs of North America and North Europe.
Maersk's average rate in Q3, of $1,780 per teu, while up 17% on the previous quarter, was well below Japanese carrier ONE's $2,375 and a similar average rate reported by OOCL.
During the company's earnings call, Maersk CEO Soren Skou explained that the carrier was focusing on expanding its long-term contract business instead of the more lucrative, but also more volatile, short-term spot market.
"This represents a strategic transformation of our ocean business," said Mr Skou, adding that 67% of the carrier's long-haul volumes was now covered by long-term deals.
The contracts include commitments of 2.8m teu a year from its top 200 shippers Maersk has signed on multi-year deals with fixed rates for the first 12 months and negotiable rates subject to a cap and collar thereafter.
Mr Skou said contract rate negotiations for the main Asia to North America and Asia-Europe trades were closing "significantly higher" than when last concluded, and that most, if not all, would be completed by February, rather than the normal April/May.
Nevertheless, Mr Skou said Maersk was not going to ignore the short-term spot market, which he said was needed "for flexibility", and that many small and medium-sized forwarders would continue to be able to book space via its Maersk Spot product.
He also said larger forwarders would be catered for by buying slots on sailings which they paid for – used or not.
Maersk's vessel operating costs, however, are soaring and increased by $1.5bn on Q3 20, to $6.8bn. The fuel bill almost doubled, to $1.4bn, driven by a 74% jump in its average bunker price, to $504 per ton, as well as a drop in fuel economy, thanks to speeding-up ships to mitigate berthing delays.
Moreover, Maersk warned the higher bunker and charter hire costs would increase its costs in the next quarters.
Notwithstanding the continued stellar performance from Maersk's container line, Mr Skou said he was also "particularly proud" of the group results and progress in its terminals and towage and logistics & services business.
Terminals and towage ebit in the third quarter increased to $352m, from $236m the year before, which it said was partly due to higher storage income from landside congestion.
And logistics & services produced an ebit of $194m in the quarter, compared with $100m previously, "reflecting the significant organic growth in revenue of 33%".
Maersk has decided to maintain its full-year ebitda upgrade guidance, given on 16 September, in the range of $22-$23bn. It said the final-quarter result was expected to be on a par with Q3, with higher operational costs mitigated by higher rates.
Meanwhile, the group said today's announcement of the acquisition of German forwarder Senator, primarily an air freight business, would "fill a gap" in its logistics and services portfolio and "represent a significant acceleration of our integrator strategy".