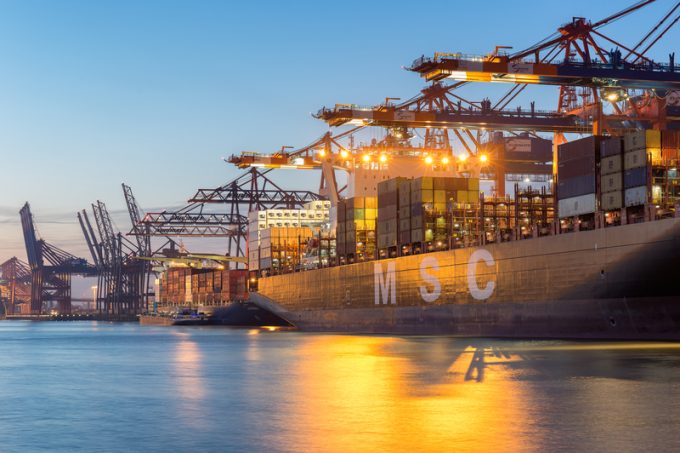 Container spot rates on the key Asia-to-Europe and transpacific tradelanes are in freefall, prompting carriers to consider cancelling voyages without notice.  
The Shanghai Containerized Freight Index (SCFI), published yesterday due to a holiday in China today, recorded further rate declines for Europe and the US, as market fundamentals continued to weaken.  
Asia-North Europe spot rates fell another 5.1%, to $674 per teu, which is a massive one-third below their level at the beginning of January and over 20% lower than in the same week last year.  
And for Mediterranean ports, where carriers have had some success introducing FAK increases, the index recorded a 5.8% drop, to $826 per teu.  
One Asia-North Europe carrier source told The Loadstar, on the side lines of London International Shipping Week this week, that there were "plans afoot" for immediate capacity reductions.  
"Some shippers have been complaining that they are only getting four weeks' notice of blankings, but it is possible that we will have to consider pulling a voyage without any notice if things don't improve very quickly," he said.  
Much will depend, however, on how the market adjusts to the 2M's AE2/Swan service suspension at the end of this month, the Ocean Alliance's five headhaul blankings, THE Alliance's three void sailings and an additional cancelled AE7/Condor loop by the 2M in week 40.  
Meanwhile, a similar pattern emerged this week on the transpacific, where the supply-demand fundamentals have been thrown out of kilter by tariff uncertainties.  
The US components of the SCFI softened further this week, losing 7.6% for US west coast ports, to $1,447 per 40ft, and shedding 4.4% for east coast ports, to $2,516 per 40ft.  
The rates are, respectively, some 38% and 28% below the level of 12 months ago for the west and east coast ports when tariff-hedging front-loading by shippers spiked the market.  
In a bid to mitigate this softening demand, transpacific carriers have so far announced the withdrawal of nine weekly sailings from Asia to the US west coast next month, along with four US east coast loops and two sailings to the Gulf coast.  
Moreover, in a customer advisory today, OOCL said that "in response to the low seasonal demand" it was blanking an additional two voyages in weeks 40 and 41.  
Amid their battles to shore up freight rates, lines are beginning to roll out their IMO 2020 fuel surcharges to recover the extra costs involved in complying with the new regulations. Ships that will need to consume low-sulphur fuel to comply with their 1 January start will have to start replenishing their tanks with the 0.5% maximum sulphur content fuel in the final quarter of the year.  
Indeed, Maersk this week advised it would be introducing an EFF (environmental fuel fee) on all trades from December 1, applicable to all spot and short-term contracts of less than three months.  
The carrier did not reveal the amount of the EFF. It said it would confirm this at the end of next month, but advised that the surcharges would be calculated as the price difference between high- and low-sulphur fuel "multiplied by a trade factor".