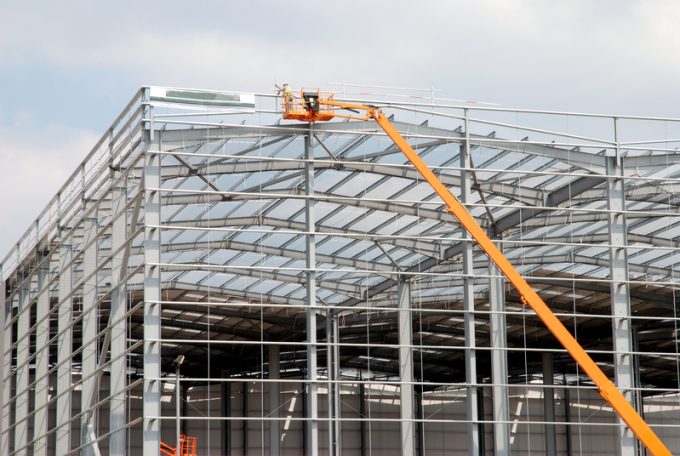 Faced with an ongoing dearth of available capacity, warehouse operators will have to step up automation of their facilities to ease constraints.
New studies show construction has slowed sharply and inventories will remain bloated at least into the second half of this year, and likely well into 2024.
Warehouse construction shifted down a few gears this year, according to Interact Analysis, a UK-based consulting firm. On a global scale, new warehouse building has fallen by 35% from last year.
This year, the consultancy sees 6,700 warehouses coming on the market.
The drop in construction is not for want of demand, Interact Analysis researchers found. Available capacity remains tight, but economic headwinds have weakened the appeal of setting up new warehouses. In particular, uncertainty over how long the current weakness will linger and high interest rates are giving developers pause for thought.
This dovetails with predictions published earlier this year, by industrial real estate giant Prologis, that warehouse development starts will fall to a seven-year low in 2023, despite rent growth in excess of 10%.
Warehouse construction was busiest in the US and China last year, growing 6% and 5% respectively, according to Interact Analytics, whereas Japan and France showed the weakest growth.
The consultancy sees the biggest impact of the slowing economy, in conjunction with weakening consumer demand, on the e-commerce fulfilment segment. This year some 2,000 new fulfilment facilities are due to come onstream, half the number recorded in 2022.
Not surprisingly, Amazon is playing an major role in this development. The behemoth nearly doubled its warehousing footprint between early 2020 and the end of 2021, but last summer management was forced to slam on the brakes as the realisation set in that growth was lagging seriously behind projections. Between last summer and early last month, Amazon cancelled, delayed or closed 99 warehouse facilities.
Despite slowing demand, inventory levels are widely expected to remain high, keeping up the pressure on capacity and pushing up rents.
A survey of 90 logistics managers conducted in March and published by CNBC shows many do not think their inventories will shrink considerably in the near term. About one-third (36%) expect inventories to return to normal some time during the latter half of this year, but another 36% do not anticipate this before next year. While 21% reckon it will happen in the first six months of 2024, 15% see it in the latter half and 6% think inventories will get back to normal in 2025 or later. The remaining 22% are 'not sure'.
The CNBC Supply Chain Survey further indicates that 20% of excess inventory is not seasonal goods. More than half of the respondents said they were keeping their excess inventory in their warehouses, while 27% sell theirs in secondary markets. And nearly half the respondents identified warehouse costs as their biggest inflationary pressure.
With insufficient capacity entering the market and high interest rates to contend with, warehouse operators will be seeking to maximise use of existing space though automation, says Interact Analytics.
"The boom we saw during the Covid-19 pandemic will come to an end. Many companies are likely to focus on automating their existing assets rather than investing in new, larger projects,"  noted the research.
At the end of last year, 18% of all warehouses had some form of automation installed, according to Interact Analytics. This will rise to 26% by the end of 2027, it predicts. And construction should accelerate again in the near future.
"The slowdown in warehouse construction is likely to be short-lived as the demand for sites is still there. Rent prices are anticipated to increase in the mid-term and e-commerce will continue to drive demand over the long term," it concluded.