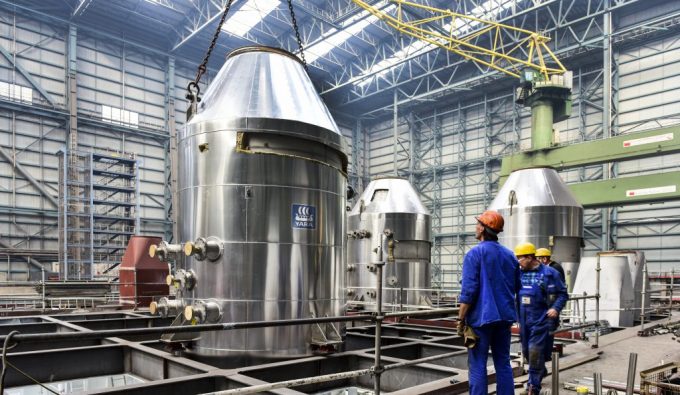 The idle containership fleet has soared to 225 vessels, 1.32m teu, but more than 60% of the inactive capacity is due to scrubber retrofitting ahead of the IMO 2020 regulations.
Based on consultant Alphaliner's latest data, there are 83 ships, with a total capacity of 839,130 teu, either undergoing scrubber retrofits or at anchor awaiting their turn at shipyards.
Containership owners and ocean carriers are increasingly concerned at the time vessels are out of service for the installation of exhaust gas cleaning systems.
According to the latest assessment from shipbroker Clarksons, the average time required for a scrubber installation increased to 62 days in October, from 48 days in July. Indeed, one broker told The Loadstar recently his owner had "written off" a ship for three months.
He explained: "The ship has joined a big queue at the yard in China, they don't know when [the retrofit] will get started and then they have to ballast it back to Europe and phase it back into the trade. It's a bit of a nightmare really."
He added: "Apparently they promised the owner the scrubber could be done in five to six weeks, but it seems like that was a tad optimistic."
Alphaliner said: "Owners are reporting significant delays at shipyards currently straining to cope with the large number of retrofit projects, due to limited access to trained labour and subcontractors."
For shipowners caught up in the scrubber installation delays, it means losing a substantial amount of charter hire revenue while the vessel is out of service, and for ocean carriers that sent owned ships to the yards, it will add significant cost for replacement charter tonnage.
Speaking during the company's third-quarter earnings call this week,  Constantin Baack, CEO of non-operating containership owner MPC Container Ships, attributed much of the lessor's Q3 loss to a strategy of having 10 of its fleet of 58 handy feeder vessels fitted with scrubbers. This had an impact on fleet utilisation, which fell to 85% from 91% in Q2.
Nevertheless, Mr Baack said the ships fitted with scrubbers would command higher daily hire rates.
He said: "Nine scrubber-vessels have concluded charter parties with major operators at attractive base rates, together with a savings sharing mechanism, eight of which are at two- to three-year durations and one on a short-term basis."
The current price difference between compliant fuel for ships not fitted with scrubbers and HSFO (high-sulphur fuel oil) is about $250 per ton. MPC has calculated that, based on this, the return on investment for its typical feeder type vessel would be 1.6 years.
If the spread was to widen to $350 per ton, this would fall to 1.1 years, but if the difference narrowed to $150 per ton, it could take 2.7 years for the company to recover its scrubber investment.