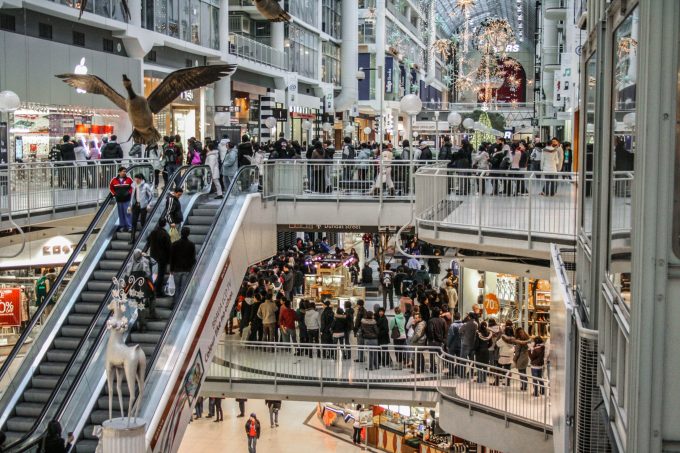 This week, Walmart and other US retailers kicked off the season of frenzied bargain shopping with steep discounts on some products.
Normally Black Friday (due at the end of this week) marks the shopping season going into hyperdrive, but some players apparently decided not to wait that long this year.
Depending on where you stand, this can either be viewed as a bullish take on undiminished consumer appetite for more goods, or as an effort to stretch out the peak shopping season to sell as much as possible before supply chain snags cut off the flow of merchandise available for sale.
The demand outlook is bright. Walmart recently adjusted its projections for same-store sales at US stores for the year upwards to over 6%. In the third quarter its sales at stores were up 9.2% year on year.
The National Retail Federation has predicted sales in November and December to grow between 8.5% and 10.5% from last year to reach between $843.4bn and $859bn. Last year the tally was an 8.2% rise over the last two months of 2019 to $777.3bn.
From the parcel carrier side, FedEx recently weighed in with predictions of a 10% rise in holiday package volume this year, which translates into 100 million parcels more than two years ago. On Cyber Monday the integrator anticipates handling 32 million parcels.
This augurs elevated revenues, but also escalating costs from the cascading impact of shuttered factories in Asia and scarcity of raw materials and components to higher transport and storage costs. Importers of clothing and footwear are reportedly paying twice the amounts they had to fork out two years ago. Insurance and freight costs in this bracket have risen from a 3.7% share of the product value in 2019 to 6.4%.
According to warehouse facility giant Prologis, warehouse rents are expected to rise 18-19% this year. For Walmart rental costs are estimated to go up 7% this year to $3.28bn. Transport costs have climbed too, not least as a result of management's decision to charter a ship to ensure its imports from Asia were coming through without huge delays.
Labour costs are also up sharply for the retail giant from Bentonville. Walmart has hired more than 200,000 workers for stores and warehouses this year to cope with the holiday rush.
The giant retailer took a hit on its share value after it reported its results for the third quarter, although revenues beat analysts' expectations, rising 4.3% to $140.53bn. The news that its gross margin slipped 42 basis points in the period sent its shares down 2.5%.
One observer has warned that Walmart's margin could drop between ten and 30 basis points in the fourth quarter as a result of supply chain issues or elevated costs.
Target reported a decline in operating income margin in the third quarter to 7.8%, down from 8.5% a year earlier. Its gross margin rate slipped from 30.6% to 28.0%, due largely to higher merchandise, freight and supply chain costs.
Amazon is not immune to the rising cost pressure either. It has warned of higher costs in the holiday period.
Presumably this was one reason for management's decision to raise charges to its customers with effect from 18 January. In its message to clients, it stated that so far it had absorbed billions of dollars in higher costs on their behalf while investing in its delivery network to ensure smooth flows.
In the main, the higher charges will hit merchants that use the Fulfilment by Amazon (FBA) service.
"We will adjust FBA fulfilment fees to partially offset the higher permanent operating costs we face going forward," Amazon told them.
On average charges are going up 5.2%. Amazon is raising monthly off-peak storage fees as well as removal and disposal fees, and it will introduce a tiered rate structure for long-term storage and dim-wight pricing for large standard-size products.
According to one report, retailers are looking to raise prices to make up for higher transport costs and for lost sales, fearing shortages of inventory in the weeks ahead.
A survey of small business owners published on 15 November by Digital.com found that 53% of the respondents were expecting inventory shortages, with 48% thinking their stock would be 20-50% lower. The survey indicates that 32% of grocery stores were expecting inventory to drop 60% or more, and 22% said they would raise prices 50% or more to compensate for this.