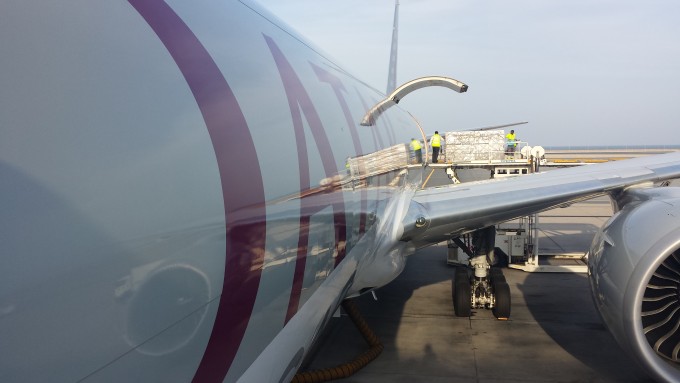 In news that will no doubt dismay certain air cargo carriers, Qatar Airways Cargo announced yesterday that it saw volumes rise 37.5% in 2015, carrying 1.52m tonnes.
In a statement that mentioned no financials at all, the carrier added that Doha's transit cargo rose 39%, imports went up 29% and exports rose 10%.
As Lufthansa Cargo's executive board member Dr Alexis von Hoensbroech said wryly last week in Mumbai: "The changing competitive landscape is creating a difficult dynamic for the industry. Not every carrier that grows strongly is looking as closely at its P+L as we have to."
However, one major air freight forwarder told The Loadstar: "They don't dump prices wholesale – they are no worse than anyone else."
Qatar Airways will not be sitting still, with three additional 777Fs scheduled to arrive this year. It said its freighter/belly split in 2015 was 51:49%.
"At a time when international air cargo traffic grew only 2.5% in 2015, it makes us very proud that our year-on-year figures from 2014 to 2015 show that we have grown our tonnage by 37.5%," said Ulrich Ogiermann, chief officer cargo.
"We have achieved this phenomenal growth through a combination of fleet and network expansion, creative interline agreements and by deploying capacity on expanding or untapped markets."
Qatar launched Dallas Fort Worth as a new freighter destination this year, as well as adding a frequency to LAX. This month it will open maindeck routes to Budapest, Prague and Ho Chi Minh, and bellyhold services to Boston, Birmingham, Adelaide and Atlanta later this year.
Dr von Hoensbroech added that there was little Lufthansa could do about overcapacity, but that the German carrier would remain competitive with its base in Europe's manufacturing heartland, and via quality.
"We naturally have a high cost structure…so we have to differentiate by quality," he said.
However, the Gulf carriers are giving rivals a run for their money there too. The forwarder source added: "Qatar and Etihad are extremely customer focused – the best of those that are out there.  And they have the highest flown-as-booked performance figures."
He added that Lufthansa's run of pilot strikes had been "challenging".