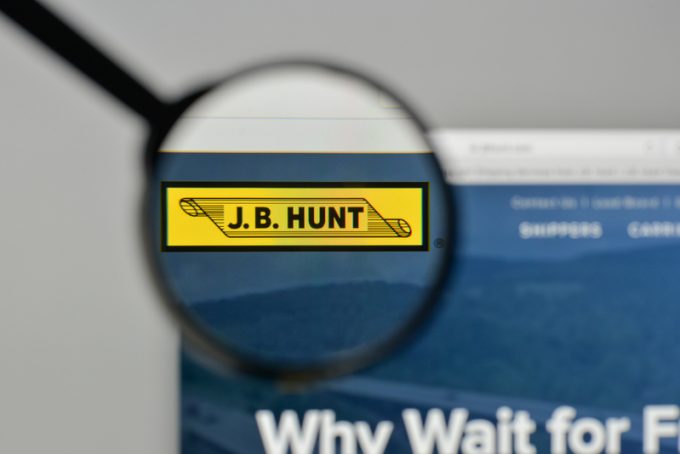 JB Hunt saw second-quarter net earnings fall 9%, to $121.7m, on the back of operating revenue of $2.15bn, down 5% – but it beat expectations.
Business unit-wise, the group saw a 2% volume decline in Intermodal, an 11% fall in Integrated Capacity Solutions and a 5% drop in stops for Final Mile Services.
Truckload, however, reported a 17% increase in loads, while the operating revenue achieved through the JB Hunt 360° platform rose 3%.
Operating income for the quarter totalled $175.2m, versus $193.1m last year.
While the group saw lower revenue and higher purchased transport costs, as well as expense related to Covid, it also enjoyed lower driver turnover, insurance costs and claims and lower travel and entertainment costs.
But, as John Roberts, chief executive, noted in an earnings call: "Comparisons with last year do not help illuminate much about where we find ourselves.
"What we do know is that, during the quarter, we saw a stable and steady cadence of demand, particularly, in our Dedicated and Intermodal businesses, and even some of the disruption in Highway Services brokerage and truckload, signalling a similar upward slant to the demand curve, albeit difficult on near-term margins."
He said final-mile business was picking up, although slowly, and a need to hire more drivers indicated that the company was past the bottom of the cycle.
"This is particularly encouraging, in that we have experienced some of the lowest driver turnover ever in the past four months."
While the market slowly picks up, JB Hunt said it would continue to "maintain a conservative capital expense approach and keep a hold on costs". But it was restarting strategic discussions around growth.
"Having said all that, we are cautious," added Mr Roberts.
Covid cost the group $15m in the first quarter and $11m in the second, and John Kuhlow, interim chief financial officer, said the group was maintaining higher cash positions, ending the quarter with some $275m in cash and net debt of about $1bn.
"We're currently forecasting our capex to be approximately $600m-$625m for 2020, which is down from our original plan of $700m."
He added: "From an M&A standpoint, I noted our target leverage ratio of one-times, but we're comfortable taking that higher if acquisition targets meet our ROIC and margin considerations."
June was Intermodal's best month, with volumes growing 5%, after a 6% fall in April and 5% fall in May, said its president, Darren Field, although prices were slightly down.
"Feedback we received from customers was that sales trends were stronger than they expected as the economy began to reopen. And while we know there is a lot of focus on imports, we did not see a normal correlation between import data and our west coast volumes.
"As it relates to pricing we discussed in our last earnings call, we would take a balanced approach to both volume and price during the bid season, and I believe we have executed on that strategy for 2020. At this point, we have completed pricing on approximately 80% of our published business with the remainder to implement in Q3. October will begin a new pricing cycle."
He believes imbalance in the network would become more difficult in the third quarter.
"The reality of the mix of our current customer base is significantly stronger off the west coast. We expect we will have some cost pressure while we ship empty equipment to the west coast at higher levels than we expected going into the year. Rail service has continued to hold up during the increase in volumes. As June volumes increased, we aren't experiencing the record level network rail service that occurred in March and April, as volumes had declined.
"But as we have experienced a significant swing in demand, our rail providers have all worked strategically with us to solve for capacity challenges together."
The crisis has triggered more customers towards digitalisation, and the JB Hunt 360 platform.
"The trended data support our belief that customers and carriers are increasingly wanting to connect digitally," said chief commercial officer Shelley Simpson.
"This enhances both visibility and transparency for both parties and we believe market adoption is continuing to build momentum, as evidenced by our shipments per day in the platform continued to grow in double digits versus a year ago."
Final-mile was better than expected, with customers opening earlier than had been anticipated. The biggest challenges were inventory replenishment for off-price retailers, and furniture, said Nick Hobbs, president of Dedicated Contract Services. Appliances finished more or less in line with normal activity.
"While the economic outlook and recent rise in Covid cases could create additional noise in Q3, at this point, our expectations are we should see FMS return to profitability this quarter. Over the past two quarters [there have been] extreme examples … from customers closing down facilities to some accounts surging as much as 150% above base levels."
As Ms Simpson noted: "So as we saw Q2 really go through a wild rollercoaster ride, we aren't sure what's going to happen in Q3. I do think that volumes could continue to move up."
You can see JB Hunt's full results here, and the earnings call on Seeking Alpha here.