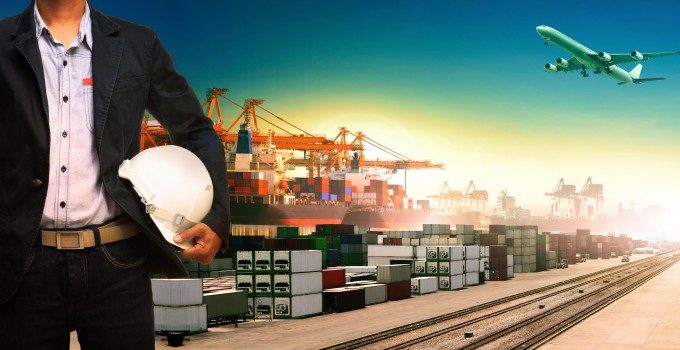 Cargolux's highly fluctuating full-year results took a turn for the better today when it announced a massive 2,123% rise in net profit for 2017, to $122.3m.
Calling last year "exceptional", the carrier added that freight tonne km (FTKs) increased by 12.3%. It was the freighter operator's best ever result.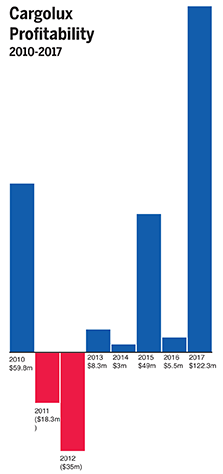 Load factors reached more than 70% and the carrier said it flew more than 1m chargeable tonnes, claiming its marketshare edged up to 4%, maintaining its position as sixth-largest international scheduled cargo carrier.
Cargolux, which has always prided itself on high utilisation, recorded an average daily utilisation of 15 hours, which block hours rose 7% to 131,212.
CEO Richard Forson praised Cargolux's staff, who have had to compromise on pay in recent years to help maintain the carrier: "The outstanding results for 2017 are a reflection of Cargolux' employees' dedication, passion and commitment to make this year a successful one on all fronts," he said.
"Our employees are at the heart of Cargolux's success and continually endeavour to ensure all requirements are met to provide customer satisfaction and ensure business sustainability. At the same time, I would also like to thank all of our loyal customers for their support".
The news is in strong contrast to October 2016, when Mr Forson shed doubt on the very survival of the carrier. He said at the time: "Can we survive as a main deck carrier within the rate environment we undergo now?"
As a result, the carrier initiated a strategic review, to determine "whether the airline is sustainable in terms of its current environment, but more importantly to position it for business in the 21st century". He added that Cargolux may have to diversify into "other areas…maybe unrelated to air".
Instead, it launched its 2025 Strategy, to ensure that the airline remained "a sustainable, relevant and competitive provider of quality services to our customers".
The carrier said: "This includes a comprehensive review of all our business processes, technological developments and innovation, to make it easier to transact with our customers, new product development and focusing on the well-being of our employees."
The carrier, which famously opened a hub in Zhengzhou in partnership with investor HNCA, carried more than 250,000 tonnes of freight to and from China, including 147,000 tonnes to and from Zhengzhou.
The airline said it operates between 19 and 25 weekly flights to mainland China.
It has been planning to launch a new airline, Henan Cargo Airlines, a joint-venture with HNCA, Henan Airport Group and Xinggang Investment Group, in the final quarter this year.
However, the latest release from Cargolux made no mention of the airline and there has been little news of it since last year. However, these good results may help it grow its fleet and perhaps finally get the Chinese airline off the ground.